As you all know I love photography and last month I showed you my instagram pictures from
@Fatmumslim Photoaday challenge
. You can see that post by
clicking here
.
Janette of the Johanson Journey
and I decided it would be fun to make it a little meme so we can see all of your pictures too.
So next week (after the month is officially over)- on
Monday
we will be showing you our month of June's instragram photoaday pictures and putting a link so you can link your post. If you participated in the Photoaday, blog about it and join in the fun. I even made a little button you can add to your post.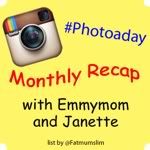 If you tried to get all the pictures but missed a few days, who cares, we want to see anyway! Can't wait to see how you interperted and captured the theme for each day.
Any questions just let us know!