My eyes popped open, the room still dark around me. I looked out my door and saw a light glowing down the hallway, I could hear my parents voices softly talking.
I climbed out of my bed and headed to the kitchen to join my parents.
"I was just about to wake you up." my mom said.
"I'm thirsty." I said
"I know but you aren't supposed to eat or drink anything."
"But I am really thirsty!" I begged
Maybe it was my big five-year-old eyes or maybe the enormity of what was about to happen but she gave in, letting me have a little apple juice.
After getting dressed we headed out to the car bags in tow; the sun barely beginning to make an appearance and began our drive.
I just remember bits and pieces after that. I remember the bed with my own TV near the ceiling. I remember being wheeled into the operating room, looking up and seeing the lights and masked doctors looking down at me just like in the TV shows and then it seemed like it was a couple of days later and they let me go down to the playroom in a wheel chair. I felt so special being pushed in a wheel chair rolling up to a table to do some art projects. I remember the boy a few rooms down with the broken arm who my mom and I would invite to play Old-Maid with us. I always won. I remember the food they would bring in with trays with a lid, lifting the lid to reveal my yummy meal- I always requested mashed potatoes. The phone calls, balloons and cards from friends-- these are things I remember.
What I don't remember; I don't remember crying and having to be held down every time I needed a shot. I don't remember my mom having to sneak out to eat while I slept as I would cry if she tried to leave. I don't remember talking so much they kicked me out of the recovery room as they were afraid I would wake the others patients. I don't remember how small the little chair that folded out into a miniature bed was that my mom slept on the entire week so she could stay with me.
What are these memories I speak of? They are from my open heart surgery at five-years-old.
Yesterday when I was recapping my monthly #photoaday pictures a few of you said you did not realize I had surgery. I think this is one of those things I have mentioned in passing while blogging but never really spoke of in detail.
I was born a healthy 9 lbs 1 oz. Healthy, pink chubby and a full head of hair.
Me as a brand new baby
Overall I seemed okay- though my mom said I was scream like I was suffocating if she put a blanket over the baby carrier. But at 5 months- when most babies have doubled their weight and I only weighed 12 lbs 9 oz- they knew something was not right. This is when they began to discover something was wrong with my heart.
I have what is technically called Shone's syndrome- which according to wikpedia:
consists of a set of four cardiac defects: a
supravalve mitral membrane
(SVMM),
parachute mitral valve
,
subaortic stenosis
(membranous or muscular) and
coarctation of the aorta
. Essentially, it is both a left ventricular inflow and outflow obstruction.
My surgery at 5 was actually my second surgery; I also had surgery at 9 months old to fix the coarctation of the aorta and they tied off the ductus- but this was done with tubes through incisions in my legs. My surgery at five was the one that left me with the scar down my entire chest and repaired my mitral valve. They went into it believing that I would have to have my mitro-valve replaced when I turned 18. My health before my surgery was very rocky. My mom said it seemed like every holiday I would be back in the hospital with pneumonia.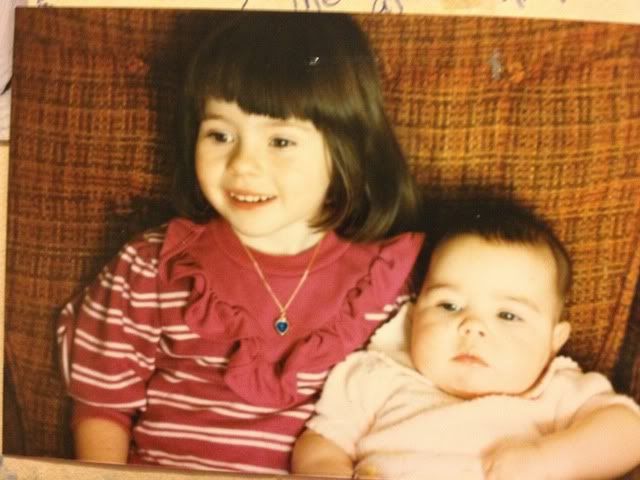 Me and my little sister about the age of my surgery
Well 27 years later and my heart is ticking away just fine. I do still have a murmur but I don't even notice this. I do not take any meds (just have to pre-medicate before going to the dentist with amoxicillin) and every time I see a new heart doctor they always ask who did my surgery as they did such an incredible job. They monitored my heart a little more closely during my pregnancies as that is a high stress time for the heart- but thankfully my heart did just fine.
I think I have never blogged about it too often as I honestly don't think about it that much and that is thanks to my mother. After my surgery (and probably before) she did not baby me or tell me I had to be careful and shouldn't do things as it might be hard on my heart and even though I was seeing a heart doctor yearly as a child it just felt like that was how it always was and it wasn't a big deal. So thanks to some great doctors and a great mother my heart is stronger than ever.