I love the fall! My fall decor is some of my favorite. This year I am adding a new grateful sign to the decor.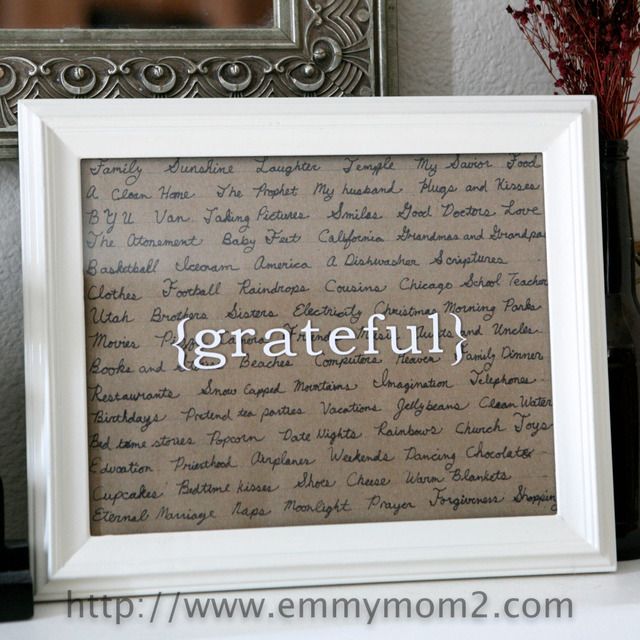 Once a month I get together with a group of friends and we all bring projects we are working on and visit and craft together. There is often more talking than creating but it is so much fun. This month, several of us were inspired by the project
found here
on Pinterest and wanted to make our own.
Supplies:
Picture Frame with Glass- any size I used 8X10
Spray Paint- I used Rustoleum Heirloom White
Contractors Paper (or any paper you want)
Pencil
Ruler
Fine Point Sharpie
Vinyl or Sticker Letters
1- Spray Paint Frame
I started with a simple, black 8X10 picture frame. I spray painted the frame Rustoleum Heirloom white (available for half the price at Home Depot). This is a beautiful color that isn't a true white, but more antique looking.
2- Cut Paper Backing
I then cut a piece of brown contractors paper to fit in the frame. I used the back of the photo frame for a template for the correct size.
3- Line Paper
I then measured and lightly drew straight lines across the paper with pencil every 1/2" as I knew I would never be able to write text straight without it and it really does not take away from the piece at all.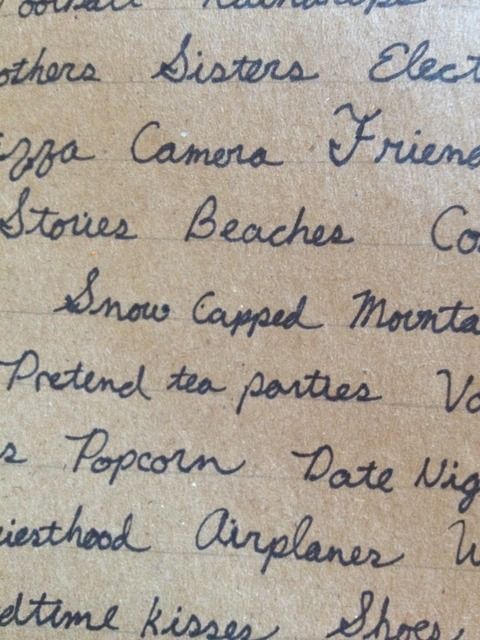 Shows lines and words up close
4- Write Grateful List
I began writing with sharpie what things I was grateful for as I thought of them, so in totally random order. Leave a little room on all four sides or when you put it in the frame they might get cut off. I had to pull up a web site with how to write letters in cursive as it is amazing how many capital letters I don't remember anymore.
Don't worry if you don't have the best writing, I certainly don't- there is enough text and it is small enough that even imperfect writing still looks great.
You can use a bigger frame if wanted but the bigger the frame the more you will have to write.
my completed list on the paper
Then I just simply put the brown paper in the frame and put the back on, just like putting a picture in a frame.
5- Cut Grateful Letters
Then I used my Silhouette to cut out the word grateful. I used Bookman Old Style font and my font was 6" long and just a little over 1" tall.
6- Place Sticker and Enjoy!
I measured to find the mid point of the frame and tried to line up the words as evenly as possible.
Let me know if you try it, I would love to see your finished product!
You can find my other projects by
clicking here
or on my DIY/Projects tab on top.
Will be linking up with the following crafting parties this week.