It's February, which means Blue and Gold Cub Scout Banquet time! In my church I serve as the Cub Scout Committee Chair (well served as I just got released and have a different responsibility now) and this year we decided to do a Western Themed Blue and Gold Banquet!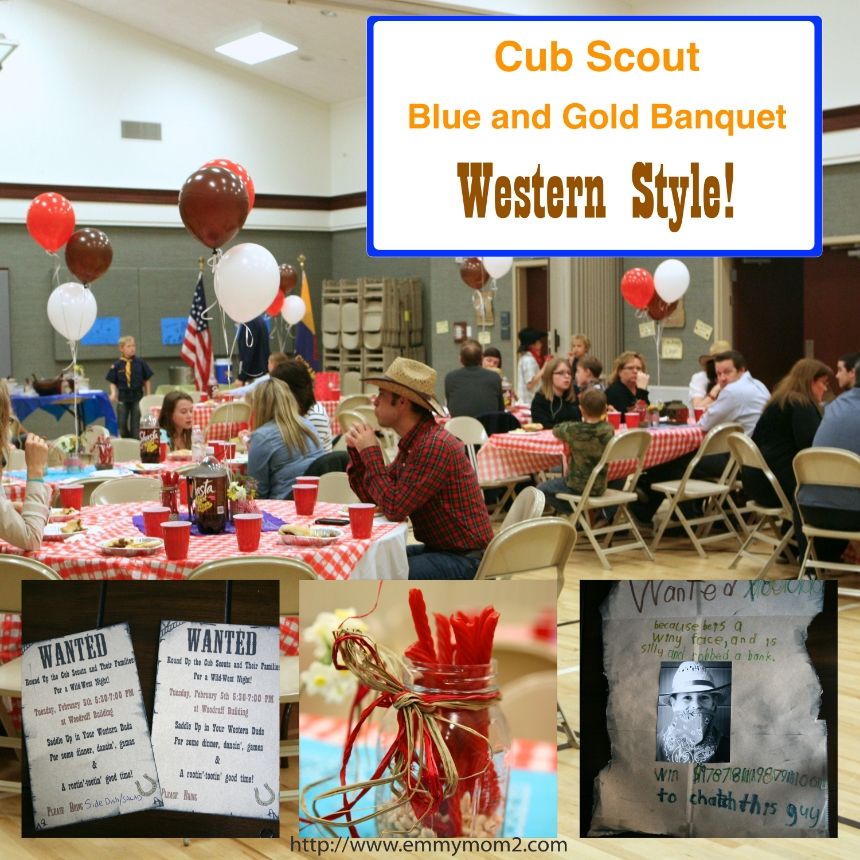 The invitations!
I printed them on some brown card stock and then ran a black ink pad along the edges to give it that old worn out look.
A couple of weeks before the Blue and Gold during den meeting we had the boys make wanted posters.
A local grocery store happily donated brown paper bags, which we cut into a flat paper for each boy. We then instructed them to write why they were wanted and for how much-having them leave a spot in the middle for their picture.
I took each of the boys pictures, did some editing and added them to the posters.
I then tore the bags roughly around the edges and once again inked the edges.
At that same den meeting the boys also made stick-horses, which I will show later in the post.
The Decor:
-red checkered table cloths
-lamps
-tin cans with flowers and helium balloons
-bandannas
-mason jars with licorice
-cucumber cactus
-wanted posters
-cowboy lingo signs
-cowboy joke signs
We hung the wanted posters, along with some cute cowboy lingo and jokes around the walls of the gym
You could lift the jokes for the answer underneath
The Tables
One of the leaders even brought a real saddle for display! The cactus were on the food table and are simply cucumbers with lots of toothpicks poked into them.
Dinner:
-Pulled pork or shredded beef sandwiches
-side dishes (beans, chips, salads) provided by families
-lemonade/water and root-beer to drink
-cookies and root-beer floats for dessert
We served the dinner in disposable pie tins (like ones from Cafe Rio)
He liked his cookie
Activities:
-Boys got awards and cowboy hats (from dollar store!!)
-Horse Craft table (for all kids when done eating)
-Group participation old west story
-Line dancing- just taught one quick dance
-Stick horse races
Each boy got their cowboy hat when they got their awards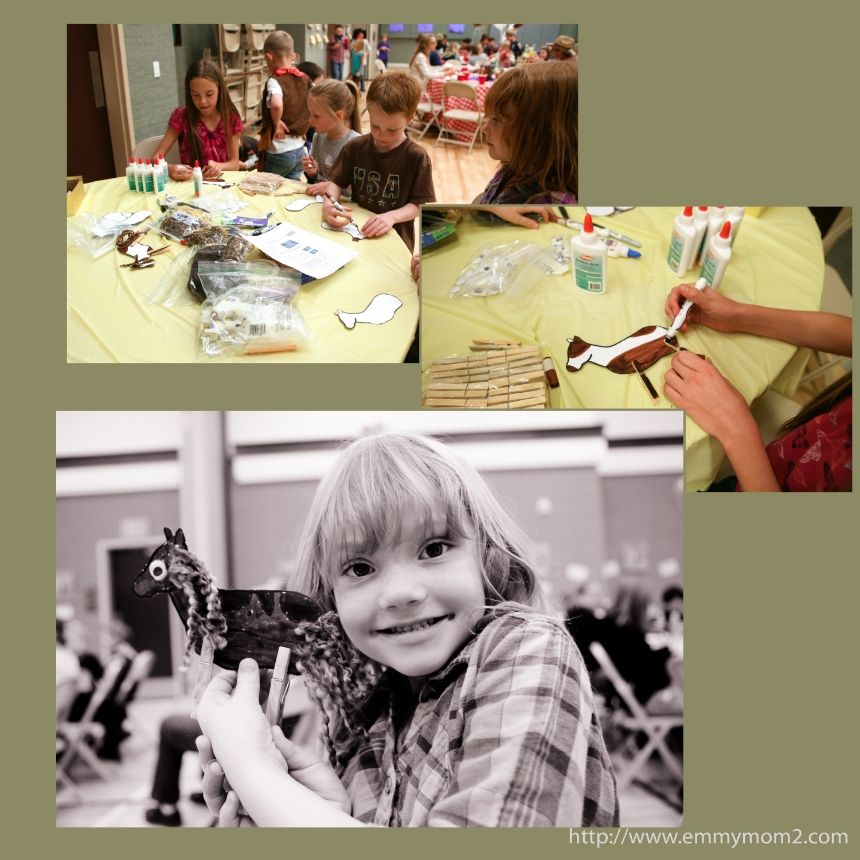 Made paper horses with clothespin legs, googly eyes, and yarn hair
Line Dancing! And yes that is my son pouting behind my husband
Sick horse races
The boys made the horses during a den meeting. They are brown paper lunch bags stuffed with newspaper. Then they taped the head onto a empty wrapping paper roll. They added googly eyes, card stock ears and yarn hair. We had each boy write their name on the roll and kept them until the Blue and Gold or we knew they might not survive!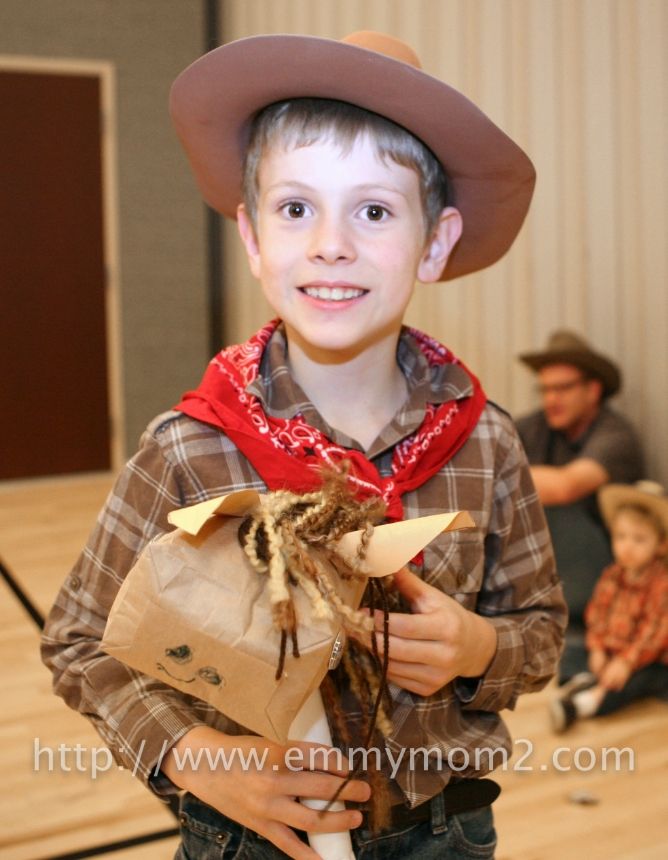 It was a great night and all the boys had a fun time and everyone enjoyed dressing up.
He loved his root-beer float!
Have you ever been to a Cub Scout Blue and Gold Banquet?
I am linking this post up at the following crafting blogs
Since it is Tuesday I am linking up with some other great Tuesday meme's. IA and Shawn's Talk to Us Tuesday and Stacy Uncorked's Random Tuesday