Proud Mommy Moment Time! This is a weekly meme that
Kmama
and I co-host telling the proud and not so proud moments of motherhood. For more information-
click here
. Grab the button and join us!
Every Thursday!
My kids like candy. They get this from their father. Remember the
Jelly Bean machine
he got last year for his birthday-- yea it's always full.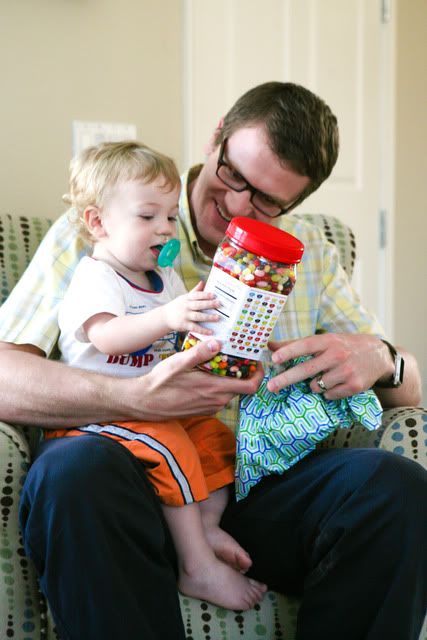 The Jelly Beans for the machine for his birthday last year
Lately the candy of choice has been Laffy Taffy, probably because we have a big bag of it. As you may know Laffy Taffy candies have jokes on the wrapper. You know the ones like "Why did the skeleton go to the movie alone?" "He had no body to go with"... da-da-dum.
Ryder has learned that here are jokes on the Laffy Taffys and will ask me to read the jokes to him, usually laughing before I even read the punchline.
Yesterday, he decided to do it himself.
"No, I will read it!" he said while holding his laffy taffy flat to see the words.
"Why did the toilet go to the bathroom?" "Because it wanted to go potty and his horn was broken."
"Why did the garbage can go to the grocery story?" "Because he wanted to throw everything away"
Well, let's be honest his jokes aren't much worse than the ones on the wrappers.
And just a totally random cute Ryder thing-- here is a video my Father-in-law made when they were visiting last week of Ryder golfing.
What is your Proud Mommy Moment this week?