I have been blogging a long time now- over four years and this meme, We Want to Know Wednesdays is one I used to participate back when it was under different ownership and thought it would be fun to join in again.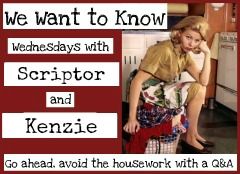 The questions this week are
1) Did you get any April Fools' pranks played on you this year?
Sort of-- when I picked my daughter up from school she told me that she did not get a stamp that day (what they get at the end of the day if they have been good). Really? I asked to which she immediately replied "April Fools", she was very proud of herself.
I did pull a joke myself- I cut out a bunch of letter E's on brown paper and stuck them in a pan covered with foil and then told my kids (and later my husband) that I made brownies. They got all excited and ran over to look and saw the Brown-E's. I sure thought it was funny.
2) Do you take well to jokes of this nature?
If they are little and harmless then yep totally good. If they hurt someone/something than no good!
3) What makes you laugh?
Lately my toddler and his funny sense of humor makes me laugh. My husband makes me laugh almost daily by either being silly or telling me funny things that happened at work. I guess just lots of little things in life. Crude, mean things don't make me laugh-- well most of the time.
4) What movie did you last laugh at?
Wreck it Ralph
5) What is your favorite funny movie?
I hate favorite questions-- first movies that popped into my head was Legally Blond and How to Lose a Guy in 10 Days
That was fun! Today I get to announce the winner for the book "Parenting with Spiritual Power".
I used random.org and the winner is:
Reply
Delete
Congrats Xazmin! I will be contacting you for your address.
Come back tomorrow for
Proud Mommy Moments
-- mine is an interesting one tomorrow as it involves a lot of Mommy Guilt since I forgot to pick up Lucas from school, come back tomorrow to find why this is making my Proud Mommy Moment.