It has been a long week. I don't know if there are many things worse than having a child get sick all night long. Well, there might be, what about when the mom is also getting sick all night long. Yep, that was Alex and my night two nights ago. She was first and then I started not feeling good. I assumed it was watching her get sick one too many times. At 10:30 it was evident it was a whole lot more than that, at times as frequent as every 15 minutes.
Needless to say it was a long night. Eric running into Alex's bedroom to hand her the bowl while I was visiting the porcelain thrown myself. I was almost positive it was food poisoning as neither of us had any other symptoms and it came on so quickly and hard.
The next morning I literally crawled through breakfast and lunch preparations my body was completely devoid of any strength. Alex- well she seemed like she had never been sick, making a full and fast recovery. It took me the rest of the day to start to feel half-way normal.
Thankfully, I had two wonderful friends from church who came to my rescue. One took Lucas to and from school for me (we have no buses in our district) and the other who I texted asking if she could pick up some 7-UP for us went above and beyond and brought 7-Up, Popsicles, crackers, and soup.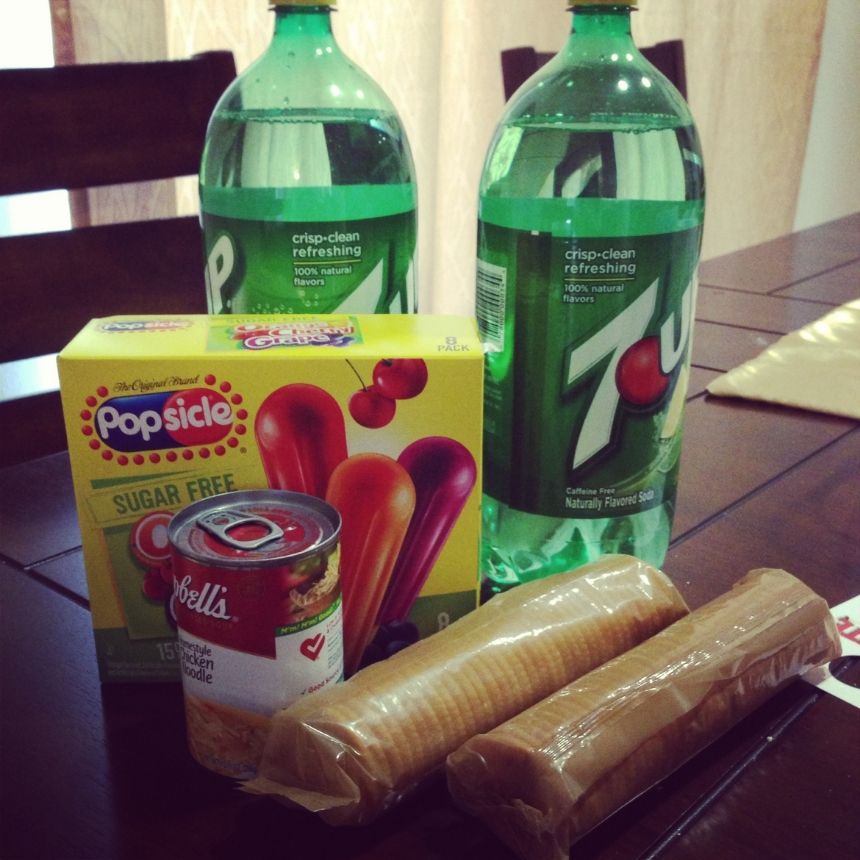 She topped it off even more by bringing the most delicious homemade chicken noodle soup for dinner that night. It was the first thing I ate that actually tasted good that day.
Last night I went to bed looking forward to actually getting a good nights sleep- when I heard it-Lucas. Turns out it wasn't food poisoning and he was joining the all night club. This night I took over bowl duty and let Eric try and get some sleep since I can usually sneak a nap in during the day.
Today as Lucas is home with me, Alex is back to school I am trying all I can to stay positive; I am so grateful for the weekend coming up.
I am grateful for the weekend not only because it is the weekend but this is a very special weekend as it is the Semi-Annual Conference for the Church of Jesus Christ of Latter Day Saints.
This weekend I, along with anyone else who wants, can listen to a weekend filled with messages of hope, of peace, messages about the Savior and his love for us. Talks and messages that will help me remember who I am and what my purpose really is. Messages that will renew me, fill me with that peace I really need at this time. This weekend always brings me so much peace, so much resolution to be a better mother, a better wife and friend, a better person to all those around me. It helps me know that the problems of this world are just temporary and that I can make it through any challenge that may come my way.
If you are curious and want to join me, feel free to tune in and listen and watch yourself. It will be on BYU-TV, which a lot of satellite providers have, or you can watch on-line for free at
this link here
.
Come listen to a prophet's voice.