I am spending the week in Chicago visiting family so I thought I would take this week to introduce you to some bloggers I love. It will be a great week of awesome guest posts so make sure you come back to enjoy them all and get to know some new ladies.
First I get to introduce you to Maegan from
SAHMaegan
.
Maegan is a mom of one adorable little guy, she shares recipes, books she likes, and cute pictures of her little guy. I hadn't read
Maegan's blog
until very recently; she and I met when we had seats next to each other at the Elevate Blogging conference; we started talking and ended up talking throughout the day and are already planning some girls nights together! Enjoy her post, leave some comment love and definitely check out her blog.
*********************
Hi there! I'm so happy to be here on Emmy's blog today, what a treat! I met Emmy about a month ago at the
Elevate Blog Conference
and we had a great time together. We emailed after that we were sad we lived so far apart, but as it turns out, we only live 1/2 hour away from each other. Crazy, and awesome! So we're meeting up in a couple weeks for lunch and pedi's ... girls day!
******************
Emmy has a fun monthly link up called "10 Things to Smile About" so I thought I would go that route with my guest post contribution today . . . here are
10 Things That Make Me Happy Right Now!
Dry Roasted Edamame Wasabi flavor. Hot and spicy? Heck ya, but I can't stop munching!!
Toddler soccer! While it doesn't start for another couple weeks, I'm super excited for "mommy & me" soccer this summer with my little. He's 3.5 and he loves to run, kick, headbutt; this should be perfect for him.
Instagram. I'm totally addicted, it's like quick blog updates in little fun pictures. Confession - I check IG before I get out of bed. (I'm @SAHMaegan)

Salmon Panzanella

. One of my favorite go-to recipes, but I make it more in the summer than any other time of year.

Poppy Cat

. Our just turned 1 year old kitty, she is a furball of joy and happiness. I love her.
Michael K. Reynolds. He is just a superb author, his first novel Flight of the Earls blew me away (my review here), his second novel In Golden Splendor (sequel!) releases July 15th. I've pre-ordered and I can't hardly wait! Do you like historical fiction?
Exercise. I run a lot, sometimes solo and sometimes with the jogger stroller, I do Jillian Michaels cardio programs, I've just started P90X, if I don't have the energy for an intense workout then I just go for a brisk walk (pushing the jogger stroller for added resistance) ... when I finish P90X I'm going to join the local Y so I can take up swimming again. Exercise, it does a body good!
Vacations on the horizon! We're going RVing for 5 days over the 4th of July holiday, going to Chicago for a week in August, and we've just started talking about a quick 1-2 night trip to Vegas this summer, sans toddler. Working on the grandparents, hoping we can get that on the agenda.
Pyrex. I first saw it on Instagram (of course) but now I'm seeing it at the Good Will and local thrift stores. It's become a fun hunt to find a good piece of Pyrex (I've passed over many that have, sadly, seen better days) and my collection is growing. Also making me smile, finding a piece for crazy cheap!
The Bible. I started a "read the bible in 2 years program" this year, so far I'm on track. But most importantly, I'm really enjoying it, savoring the message, learning and re-learning bible stories; strengthening my walk with Christ. It's been a beautiful thing.
My cousins wedding! This weekend I get to be with family members near and far as we celebrate my cousin, Steve, getting married. Yay!!
Suits! The return of Suits on July 16th, I can almost taste it it's so near.
Gel Manicures. Need I say more?
OOPS!! I was only going to mention 10, I got carried away ... so there's 13. And since a blog post is not complete without pictures, here's a fun little collage of some pics from my IG feed.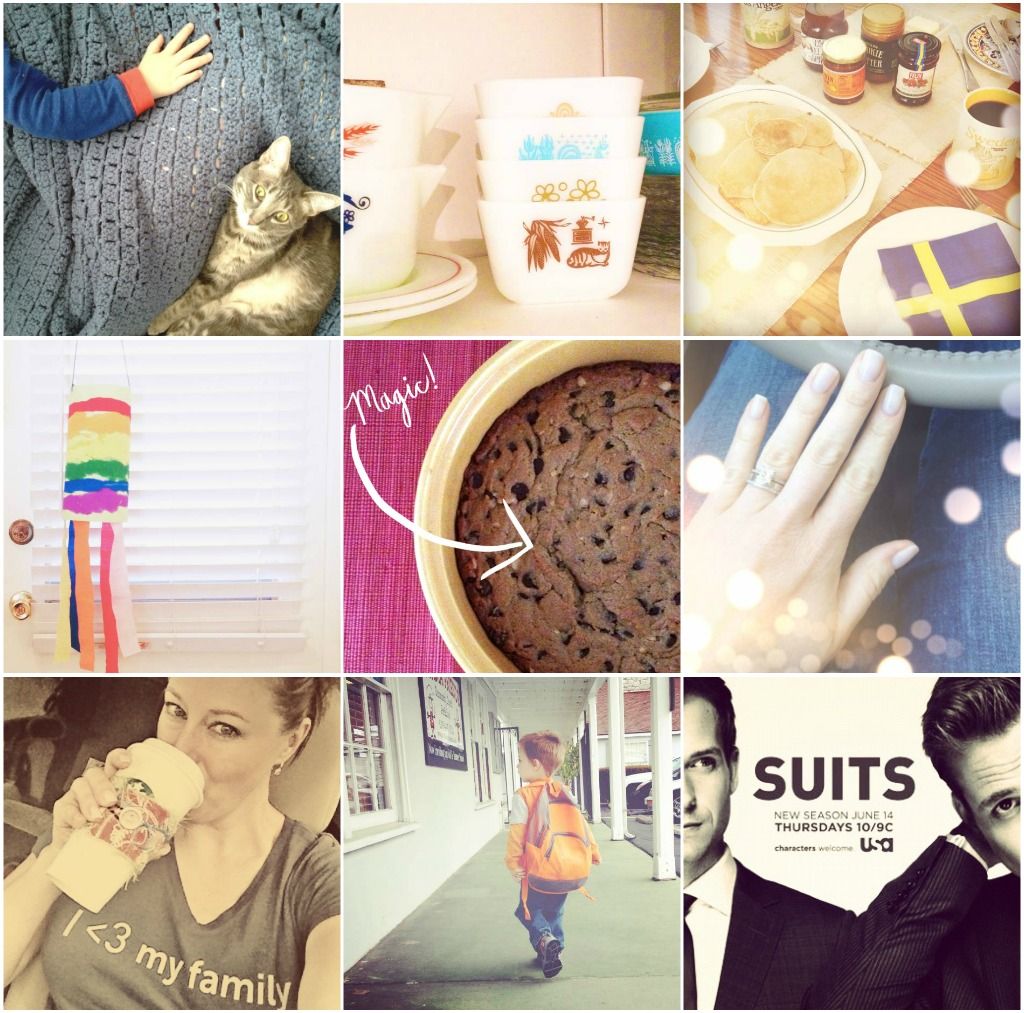 I hope you enjoyed my happiness post, hop on over my
blog
or find me on Instagram, I look forward to meeting you! Happy week!
Thanks again Maegen!! You can find her at the following locations: