Beautiful, sweet and kind, fun, a mother of two adorable little guys; someone who I want to meet in real life, these are just a few of the things I would say to describe Natalie of
From Cooperate to Domestic
. I don't remember how Natalie and I first came upon each other's blogs but we have been following each other for over two years and her blog is one I make sure to never miss. Her blog tells about her journey from the cooperate world into the role of a SAHM. Today she is sharing how she met her husband; I always love stories like this!!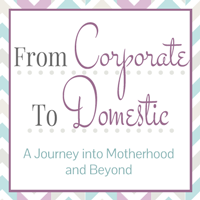 I was in my spring semester as a freshman when one of my friends begged me to attend our college's basketball game for her birthday. I remember really not wanting to go, but finally gave into her constant begging. I mean who wanted to go cheer on our really small school's team that let's just say it...was not very good. We sat in the third row behind two girls and one guy. I was minding my own business when the guy in front of me asked, "Do you have the time?" I actually wore a watch those days and now I couldn't tell you the last time I did. This guy who sitting between two pretty sorority girls by the way, kept turning around to talk to me. I thought is this guy seriously here with two girls and now trying to flirt with me? What kind of smooth operator does he think he is?
Then I had a flashback from fall semester of this same guy at a Student Council meeting spinning in his seat looking back at me. Yes I was a nerd and was on the Freshman Council of SGA (Student Government Association). What a great place to meet guys, no?
Anyhow, a few weeks later I attend the local night life establishment that can best be described as a hole in a wall. You couldn't move or breathe for that matter due to all the people and smoke. What's crazy is we wouldn't get there until 11:30pm when the place closed at 1am! I was dancing with my girlfriends when I saw the guy from the basketball game staring at me. My friends said he is so checking you out. At the end of the night, he approached me and used this smooth line, "You dance as well as you tell time." In my mind, I probably didn't do either that well. He asked me where my friends and I were headed after the place closed, and I told him what frat house we were hitting up.
Keep in mind that at my small college, fraternity boys do not go to other fraternity parties. I guess it is too much competition between them that usually if you attend someone else's it ends up in some kind of fight. The guy from the game was in a different fraternity from the party we were attending. But guess what...when we arrived at the party the guy was there! I couldn't believe it. I had some friends tell me that I MUST dance with him because he was a good dancer. He started dancing with my friend and I which I thought was really sweet because she wasn't there with a guy. We danced the whole night and had a great time. And yes as a matter of fact he was a great dancer!
A few AOL instant messages later (yes I know I am from the stone age) we were seeing each other around campus. He would call me on his way by my dorm to see if he could see me on his way to his fraternity house. We then both went back to where we met, a basketball game. I had to go to the bathroom so I asked him to watch my big red bubble coat that I just had to have that past Christmas. As I was walking back, I see him wearing my coat singing, "Fat guy in a little coat." I busted out laughing at the sight of him in my coat.
A few weeks later we became exclusive boyfriend/girlfriend. We were inseparable, and I remember that first summer away from college seemed like an eternity.
Natalie on Her Wedding Day
Twelve years, two dogs, and two boys later I now call this guy at the basketball game my husband. I never knew how attending a sporting event could change my life forever. I'm so glad I went to the game because if I had chosen to just relax in my dorm room I may have missed the opportunity of finding my best friend and soul mate.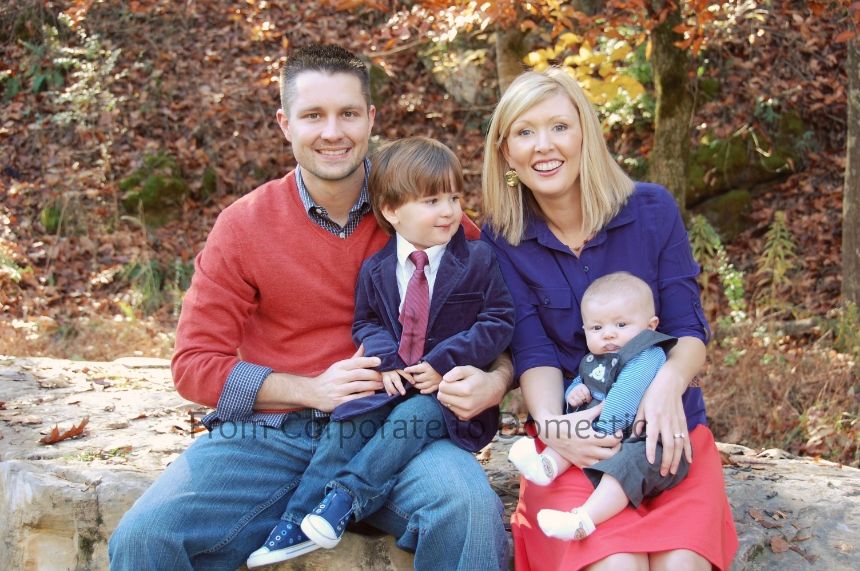 Natalie's Family
***********************
Thanks again to Emmy for letting me borrow her space to share my story of how I met my husband. I'm so glad I have been able to be a bloggy friend with her for the past two years. She is really a wonderful friend, mom, and person
***********
And thank you Natalie! Loved your post and yea I remeber the day of AOL instatant messages.
Find Natalie at the following places