First- the winner of Safe Kids, Smart Parents is
AND THE WINNER IS...
results powered by
Random.org
Entry #34Chelsea T.
Congrats to Chelsea!
Now I will be answering some We Want to Know Wednesday Questions with
Kenzie
and
Scriptor
again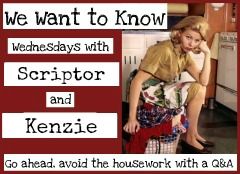 1. Show us in pictures how your summer is going so far.
I shared a lot of
pictures from our summer yesterday
; so here are some repeats and some new ones.
2. What is one thing you are never to busy for?
That is a tough one.. I wish (and should be able to say) my kids... but that is not always true. I guess one thing though if my toddler asks me to cuddle I always stop and cuddle with him,
3. What were you doing 30 minutes ago?
When I wrote this post last night, 30 minutes before I was reading scriptures and saying prayers with my family and then getting the kids in bed.
4. What is the best advice you ever received?
To treat your spouse like a gift. On Christmas morning you don't run downstairs open your presents only to say, "oh man I wish this was this instead" or "I don't like this about it".. so why do we do that with the people in our lives? Why look at and focus on the bad or things that bother us? If we do that is all we will soon see.
5. Share some of your favorite quotes: