This week is turning out to be a crazy full one and I am scrambling to find time to get anything done so thankful for
Kenzie
and
Scriptor's
We Want to Know Questions. Don't forget tomorrow is Week 2 of the Review Extravaganza! Thank you to all who have linked up, love reading the recaps.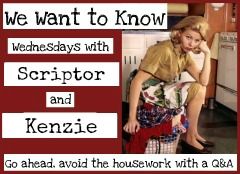 1) Dinner and a movie: What do you eat and what kind of movie do you watch?
If we are talking about going out to a movie, it is probably an action movie- something that would benefit and is better on the big screen. Movies are so expensive and then paying for a babysitter on top of that- it has to be worth it to see on the big screen. So a lot of the drama/romantic comedies can wait to be rented.
Dinner will vary from sushi to a really good burger place- we like it all.
2) Name your favorite actor and actress:
Actor- Hugh Jackman- I am always amazed when I go back and watch an older movie and realize, woah Hugh Jackman was in that. The variety of roles he plays, the ability he has to really become that character so you almost don't even realize it is him. Plus I have always loved loved X-Men and Wolverine is awesome!
Actress- Reese Witherspoon- Love Legally Blonde and Sweet Home Alabama and she just seems like the girl next door and someone who overall has her head on right
3) Will you watch any old Christmas movie or do you stick to the classics?
I will definitely watch whatever, there is just something I love about the cheesy made for TV movies.
4) What is your favorite holiday movie?
I would have to say The Christmas Card. It is a Hallmark movie that Eric and I watched one year, and something about it just made me fall in love with it and it is the one I for sure watch every year.
5) Tell us one holiday tradition you have?
Our biggest is probably our Christmas Eve traditions. On Christmas Eve we reenact the true Christmas story with the fireplace crackling in the background and drink egg nog or hot chocolate while wearing the new Christmas Eve Pajamas the kids just opened.
How would you answer the questions? What is your favorite Holiday movie (always looking for a new one)?