I am linking up with
Elaine of the Miss-Elaine-ous Life
for some old school blogging. Join and and link up at her site.
Who do you idolize?
You know, I don't know if I really idolize anyone. I definitely don't idolize celebrities, never have. I remember in grade school when my friend insisted I had to tell which New Kid on the Block was my favorite, and I really couldn't as I could care less about them (I don't even think I knew all of their names). I think there are people I am amazed by and would love to follow their examples, but wouldn't say I idolize them.
What is something you are really proud of that you have accomplished?
Being a mother to my kids, I don't always do it perfectly, okay check that, I never do it perfectly, but I try and most of the time I love it and to see their success and the good kids they are, it makes me proud. Oh and I hope to add writing and getting my book published to this list sometime this year!
What is something you are not so proud of?
The times when I have unintentionally offended someone and the times that I have put others things before what matters most.
Who was your best friend when you were 5, 6 or 7- tell something about them.
My best friend at that age was my friend Jill, I have actually
blogged about her here
.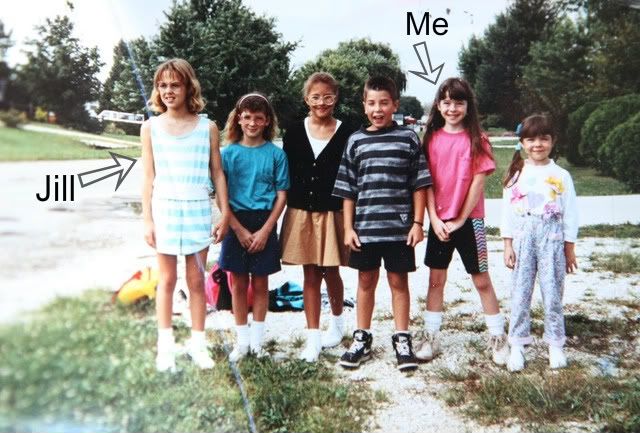 This picture was from 4th grade- but we were friends at younger ages too.
What is one thing you wish you could still do but seems impossible right now?
Well not a still do but still have-- a flat stomach. I think short of a tummy tuck and it will never be like it was before I had babies.
If you could choose what would be your last meal?
I would have a hard time picking one thing, so how about a super fancy buffet where I can just pick and choose everything I want. I know what a cheap answer, but it is true, I LOVE buffets!
What are two or three jobs that you have liked?
I really haven't had that many jobs in my life; I like being a photographer. I enjoyed my data entry job- I worked for a small company that was making physical catalogs into on-line catalogs (yes that dates me and I bet that company doesn't exist anymore), and I have a love/hate relationship with my job as a foster care worker.
What is one job that you did not like?
Probably my job as a foster care worker. It was my first real job out of college, and it felt good to help people, but it was also horrible and horrific the things I saw and the people I had to deal with (both clients and other agencies).
What is your least favorite chore around your house?
Putting laundry away! My bedroom floor can attest to that. I do have cute laundry room decor at least... but still doesn't make me want to put the clothes away.
How tall are you? Do you wish you were taller? Shorter?
I am 5'5" (barely probably more like 5'4 1/2") and most of the time I am just fine with it. My husband is 6'8" and so while you think that would make me feel short, it has actually had just the opposite effect and I think I am taller than I actually am. I wouldn't mind being a few inches taller.
What is one of your favorite quotes on love, life or motherhood (choose one)?
Do you have a favorite quote? What would you eat for your last meal? I would love to know!