I am linking up today with
Elaine for some Old School Blogging
- a fall edition. These Old School Blogging posts are some of my favorites.
What is your favorite Halloween candy?
Reese's Peanut Butter Cups-- I may have been known to sneak these from my kids bags.
What is one of the worst "treats" you have ever received in your candy bag?
Some weird unidentified caramel looking thing- it went straight to the trash.
What is one of your favorite costumes you wore as a kid?
Costumes growing up usually consisted of digging through the dress-up box and putting something together. I remember being a witch one year, and a dancer.. but I can't really remember what I was the other years. The last year I went trick-or-treating, probably when I was 13, I wore my brother's high school graduation robe and was a graduate (I also carried my newspaper bag to collect the candy as I was the newspaper girl at the time)
How about your favorite costume as an adult?
I haven't dressed up too much as an adult- in college I was a cute pumpkin, and a couple of years ago I was Snow white- those were probably my favorites.
Freshmen year of college- I cut out paper leaves to glue to the hat
Snow white and the Huntsman
What scares you most on Halloween? Spiders? Zombies? Axe murderers? Eyeballs in a jar...(or something else)?
Things jumping out at me- don't like haunted mazes or houses because of that
So then, what is your favorite scary movie??
I used to love scary movies, and haunted mazes etc. but one day it was like something switched in my brain and I do not like scary movies or scary things. I honestly can't pin-point why or what changed but they just really bother me now.
Moving on to Turkey Day...
What is your favorite part of the Thanksgiving Meal?
The stuffing- I love stuffing
What is your favorite piece of clothing or accessory to wear in the fall?
Boots! I love big tall boots and don't get to wear them nearly enough in SoCal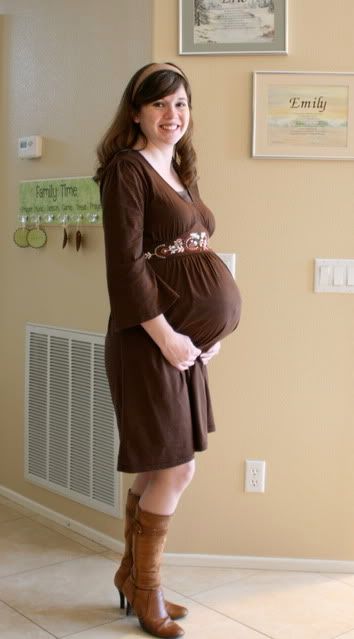 Even when pregnant I would rock the boots!
What is your favorite pie? If you do not like pie, I will forgive you, but then what is your favorite fall dessert?
Apple pie, all warm with a big scoop of vanilla ice-cream on top
Do you live where there are four seasons? If so where is your favorite place to see the fall colors?
Where I live no, but 1 hour north of me in the mountains there is 4 seasons (I am also 1 hour from the ocean, so yeah kind of live in an awesome place). I do miss having a real fall though, it is my favorite season.
What is your favorite fall tradition?
Going to the pumpkin patch-- we haven't even gone this year!
My all time favorite pumpkin patch picture- when my oldest was 1 year old!
Is there anything else special about fall to you?
Birthday! In my immediate family there is 3 fall birthdays, go to extended family and there is a whole lot more!
Such fun questions! Hurry and join in before the month is over.