The final recipe for this month was submitted by my sister-in-law Raelynn. This was definitely one of my favorite recipes of the month and my husband loved it. He kept saying, this is just like something I would eat in Mexico; he lived there for two years while serving an
LDS mission
.
Once again, not something my kids really went for, but Eric and I loved it.
CRUSTY BLACK BEAN-CHORIZO SUBS
--created by Rick Bayless
Ingredients:
8 oz. chorizo sausage, casings removed
-Oil
-2 cans (15 oz) black beans, drained & rinsed
-water
-salt
-crusty sub rolls
-avocados
-cheese-goat or feta
-salsa (optional)

Set large skillet over medium heat and add
-8 ounces CHORIZO sausage (casings removed)


Cook breaking up the lumps until browned and cooked through (about 8 minutes)
Add

-1-2 Tbsp of OIL depending on how much fat the chorizo has rendered
-2 cans (15 ounce each) drained and rinsed BLACK BEANS
-Small amount of WATER (between 1/8 and 1/4 cup)


Let beans come to simmer and then mash them with potato masher in pan so the chorizo and beans become a big mushy mess... (no the recipe doesn't word it this way exactly.) Cook, stirring and mashing until the consistency is like mashed potatoes. Add more water if necessary. Add SALT if necessary.
Keep COVERED over VERY LOW HEAT.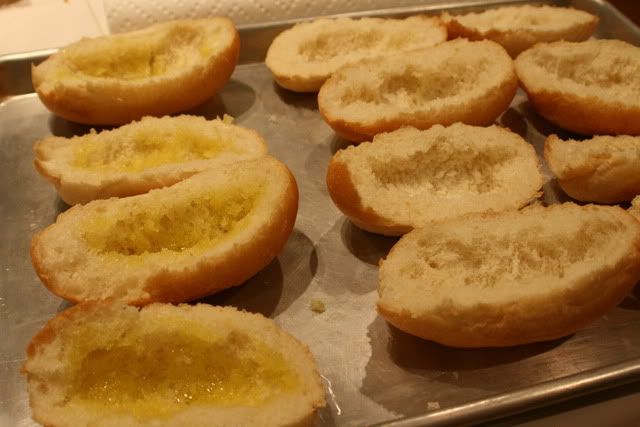 Scrape out innards of some large crusty sub rolls to make a hollow and brush then with oil or melted butter. Toast them on griddle or skillet or broiler.
Smear black bean mixture in trough of one side of roll and fill the other with sliced AVOCADOS and cheese (suggested goat cheese or feta, definitely use a creamy white cheese, not cheddar).
Spoon over with HOT SAUCE or SALSA, combine the halves and you're ready to EAT!


********************
If you make any of the recipes this month,
please let me know what you thought before February 10th.