I am joining up over at
The Daily Dribbles
with her Thanks for Nothing Thursday's.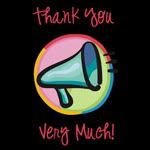 It is your chance to "take out all your frustrations on people/things that peeved you off during the week and thank them them in a very sarcastic way..."
So here is who I would like to thank this week:
-To the person who pulled into the left lane on the highway in front of me because you wanted to pass the car that was still a mile down the road and then proceeded to go 5 miles UNDER the speed limit, Thank you! I really wanted to slow down under the speed limit in the fast lane. I also wanted to be able to get a nice view of your rear bumper when you cut me off. Thank you! Oh-P.S. Did you know in some states you can get tickets for doing what you did??
-To my 3-year-old. Thank you for stomping your feet and making that favorite frustrated noise that I
love
when I wouldn't let you wear shorts and your clothes backwards. We were going to be outside at your brother's soccer class, sorry hun sometimes mom knows best.
-To the produces or
Dancing with the Stars
thank you so much for the
wonderful
cast this year. I mean Kate Gosselin?!? Well I guess it is good television to have someone that everyone wouldn't mind seeing fall on their face.
-And while I am thanking show producers, to the producers of
Lost
, thank you for answering questions every week like you keep saying you are going to, instead of just creating more questions. Only 9 episodes left you know... time to get going.
-And finally to my perinatal doctor. Thank you so much for caring so much about me that you want to see me every month even though everything is completely fine and there is nothing you need to do. I love going to the Dr. every week thanks to you and my other Dr.'s