I was told that I needed to call today's
Time for Tot's day
"Time for Tots and Tween Day", as today we were lucky enough to have
Lourie of CA Girl
and her family join us. Since we did have some tweens with us, we decided to forgo a lot of our usual tracing letter type activities and instead just concentrated on the fun crafts.
We began by making ducks. Everyone painted their paper plates yellow,
and then traced their hands on yellow paper.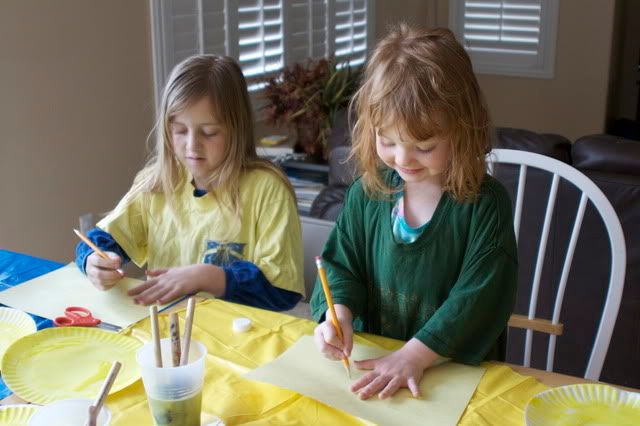 Then while we waited for the plates to dry, we moved onto the next activity.
We used pipe cleaner and beads to make butterflies. The kids filled two pipe cleaners with beads and we used a third, folded in half for the body. I then bent one beaded pipe cleaner into almost a small m shape, with one of the bumps a little bigger, and twisted it onto one side of the body of the butterfly and repeated this step on the opposite side.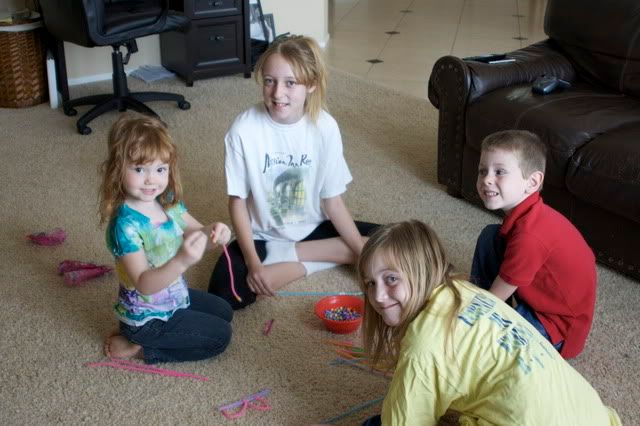 We then decorated cupcakes. We made bunny face and basket cupcakes. For the basket cupcakes, we simply used green frosting, licorice for the handles, and egg shaped jelly beans to place in the basket. We used jelly beans and gel frosting to simply draw bunny faces on some of the cupcakes, Lourie did use some licorice to make ears for hers too, it was so cute.
And then we finally finished our ducks. Lourie and I ended out cutting out all of the feet, beaks, and heads while the kids all played for a bit. Then they came back together to make their ducks.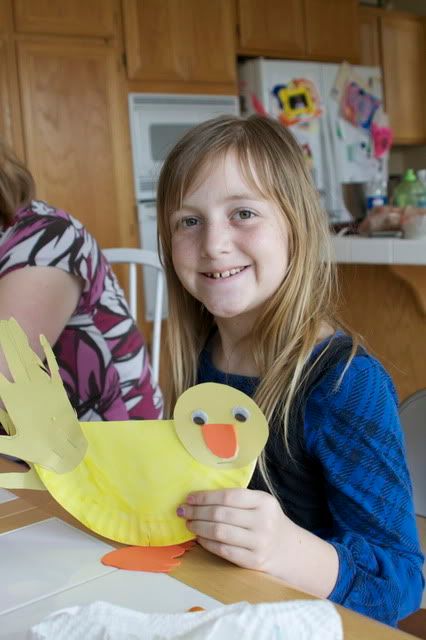 Instructions can be found at link below
It was a very fun morning. And I am definitely ready for a nap now. Hope you have a great Easter!
****************************

Duck pattern and instructions found at Enchanted Learning here
Inspiration for butterfly found at Familyfun.com here
Inspiration for cupcakes found on Bettycrocker.com here
Materials Used Today:
Ducks: Paper plates, yellow paint, yellow construction paper, orange foam sheets, googly eyes, stapler, pencil, scissors, glue
Butterflies: Pipe cleaner, beads
Cupcakes: Boxed cake mix, cupcake wrappers, frosting (white and green), jelly beans, licorice, gel tube frosting