Father's Day came and went and I did not say a thing.. I am lame; or totally busy with a newborn, one of the two. But at any rate I was feeling a bit bad, so when I saw
MamaKat's
writing prompt of
50 Things I look for in a Man
, I knew I had to do this, as well I think I have a pretty good man.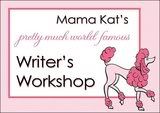 Mama Kat's Writing Workshop
But as I was thinking about it I decided I am going to break the rules a bit (
Jenners
does it) and start with things I do
not want
What I don't want
(i.e sadly real reasons I broke up with different guys)
someone who:
1. is completely possessive- only happy if I would sit and talk only with him
2. told me (or tried to tell me) what I should and should not wear
3. cries more than I do
4. uses his arrogance and "education" to tell me I am doing things wrong, i.e. I was not chopping vegetables correctly
5. Speaks English horribly, i.e. Telling me his "feets hurt"
6. Wants a career that won't be able to support me staying at home
What I don't want
(why I did not date different guys)
someone who
:
1. is shorter than me
2. cries more than I do (one cry baby guy was enough)
3. has stalking tendencies which freaked me out
4. has a reputation for being way too physical
5. does not respect my religious beliefs
6. his brothers annoy the heck out of me
7. throws a fit like a baby and gets angry when he loses
8. Sports and games are his life
Since life and some strange guys have taught me what I don't want, here is what I want:
I want a Man Who:
1. Loves me for who I am, imperfections and all
2. Supports me in what I want, i.e. being a stay at home mom
3. Works hard and is honest in his work
4. Is a great beyond amazing father
5. Is taller than me and could protect me if needed
6. Makes me laugh
7. Helps around the home and even cleans the bathroom
8. Loves God and helps our children learn of Him also
9. Is someone I am physically attracted to
10. Is smart and responsible financially
11. Supports me in my role of a mom AND in my hobbies
And well did I mention the list of wants isn't just random; it is a description of this guy: