Okay-I decided to just keep the meme train rolling this week--especially since Proud Mommy Moments is debuting on Thursday!!! Eeekk!! Excited-
read about it here
. Today I am once again participating in We Want to Know Wednesdays.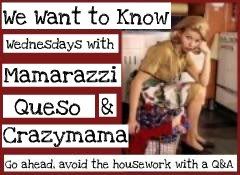 This meme is hosted by
Mamarazzi
,
Seriously Shawn
,
Impulse Addict
and
Janette
.
This week the questions come from the amazingly awesome and hilarious
Impulse Addict
.
1. If money didn't matter, where would your perfect vacation take place? Briefly Describe.
A: I think I would have to say Europe-I know very cliche, but I would love to travel all over Europe, see the different buildings, all of the famous sites, just enjoy all of the history and feel to the places. And if money didn't matter-and I am pretending I had an unending supply, I would get there on a private jet and stay in only really fancy places and travel from one country to the next by my jet. Though I would take the train once just for the experience of it.
2. What's a bad habit that you have (or had) that is/was hard to break?
A: I plead the 5th. Well okay-while some are going to stay mum-I went through a "like" phase. "That is like so totally cool"--you know like. It was hard to break. I twirl and play with my hair-but well haven't really tried to break that. And I stick out my tongue when I concentrate. My mom always would say I was going to bite my tongue off-I just say I am trying to be like Mike.
3. If you weren't on a diet or counting calories, what would you have for dinner tonight?
A: "A Vegas Style All You Can Eat Buffet!" Name the movie-anyone? And well that is probably true-but I would want this buffet to have super super good sushi too-not just buffet sushi.
4. If you had a chance to interview anyone in the world, dead or alive, who would it be and what's one question that you would ask?
This one is hard-my first thought is my Savior Jesus Christ-but well I have a feeling I wouldn't want to leave if I was with Him-and definitely not ready for that yet. Hmmm you know.. for as much as I talked about wanting to feel Europe's history-I really can' t think of and historical figure or anyone else.. not even living. ..... so next question
5.Describe yourself in 6 words
The amazingly awesome and wonderful Emily. Lol! Totally kidding. I guess I would say
"Creative Procrastinator Who Gets it done"
So head on over to any of the above mentioned ladies blogs and join in-it's fun.
And please please come back tomorrow to link up with your Proud Mommy Moment!!