Are you ready for another great guest blogger? Did you see my first guest on Wednesday? I hope so, and I think you will greatly enjoy this blogger too. Today's special guest is MiMi of Living in France. She-or a
flat version of her
- came and visited me this year- the kids and I showed her a great time. So definitely go and check out
her blog
-after you read her post here of course.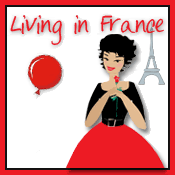 Hi everyone!! For those of you who don't know me, I'm MiMi and I reside on the blog
Living in France.
No, I don't actually live in France. It's a long story. Actually, I live in Oregon, which is part of my story here.
I thought I'd tell you all (y'all? we don't actually say y'all in Oregon. yes, we are lame enough to say you. all. 2 words.) about something that happened to me a couple months ago. And sort of continues off and on.
You first have to know living in Oregon, we have no accent. None. We are the most boring talkers, like, ever. Because of that I am fascinated
and sort of obnoxious
about any accent at all. Don't even get me started with the British or Australian accents!
So there's this new family who just began going to our church. They just recently moved here from Mississippi. They needed to go where he could get a job, and unfortunately, for them, it's here!
But very fortunate for me! The whole stinkin' family is adorable. And. She has this dripping with molasses sweet, awesome accent.
I make it a point to start a conversation with her when I see her just to hear it. I don't even know if I know what she's said as much as I'm just listening to her twang.
The embarrassing thing is this: I can't talk to her without adopting the accent. I swear. I can't control it, it just happens.
She says, "Hah, how are yeeuww?" <--- forgive me, i can't figure out how to spell the accent. if that makes sense.
I'm like, "Oh, ahm fahnnn!!"
And it's embarrassing. Because as soon as it comes out, I turn bright red (I can feel my cheeks light up on fire) and then to avoid the awkwardness, I spew forth with an even more awkward:
"Omagoodnessican'tbelieveididthat! I can't control it! I didn't mean to sound like you! Although I wish I did sound like you because youraccentisadorableandi'msosorry."
Yeah. I'm smooth. Like Ex Lax.
Diarrhea of the mouth, anyone?
Yes, please. Table for one.
Thanks so much, Emmy, for having me today! I promise if you come visit me at my blog that I won't mimic you if you have an accent. But that's only because I can't
hear
it.