We are moving next week. We haven't started packing a thing, but well that is because we are not supposed to. One of the benefits of having to
move so often for Eric's work
(about every 2 1/2 years on average) is they pay to have us moved. Basically you sit there and watch them box everything up. As glorious as this is there are some disadvantages; like the fact they will literally pack garbage if it is there and you really don't get rid of nearly as much stuff as you otherwise would.
Another odd thing is the walk- through. This is when someone from the company comes to your house, looks in all your cupboards and drawers to let you know how much it is going to cost to move all of your junk.
Last week we had three walk-throughs. The first one, Eric happened to be home so I corralled the kids while he took the guy around. The second and third occurred on the same day.
And well, let's just say, my children aren't exactly shy. In fact after Lucas had talked the first ladies ear off for about five minutes I sarcastically said "my children are so shy"
"I am not shy!" Lucas quickly retorted.
"No you are right, you are not at all, I was just being sarcastic."
"What does that mean?" he questioned
"It is kind of like saying the exact opposite of what you mean. You really are very friendly and like talking to people."
He was satisfied with this and so we headed into Alex's room.
The lady asked about some things along the side of Alex's bed.
"They are just pillows to stop her from getting hurt if she rolled off her bed" (There are some bars along the side of Alex's bed that support the wall we built to divide the playroom in half to make a room for her)
"I have a lot of toys and things under my bed." Alex chimed in.
My face turned a bit red. "Are you supposed to have things under your bed?" I asked
"No, but I put them there to keep them away from my brother!" Alex excitedly said.
"Now I know where they are!" Lucas retorted.
Ah, nothing like having the things under your bird aired to complete strangers.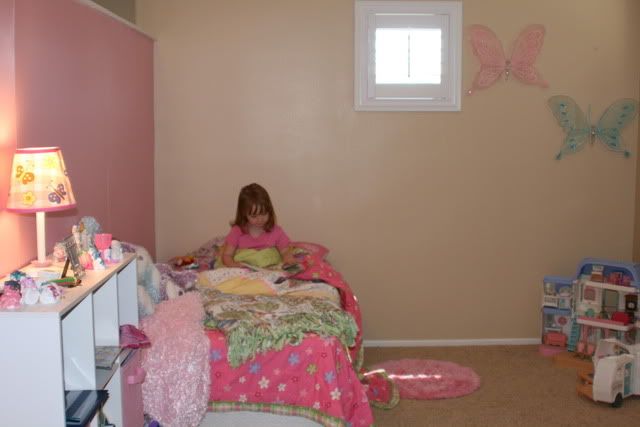 What is under that bed?

**Due to the fact that we are moving next week I am going to be around sporadically --but I do have some awesome awesome guest bloggers lined up for while I am gone, so don't go away as you won't want to miss these awesome posts!