Did you all have a wonderful Christmas? I hope so. We did and the kids are now busy playing with their new toys. Since Christmas is over I finally get to show you two of the presents that I have been wanting to show you for a long time.
For my SIL and her husband we gave her a month of dates in a box.
(one of the boxes)


For the grandma's I made them each a sign like this one.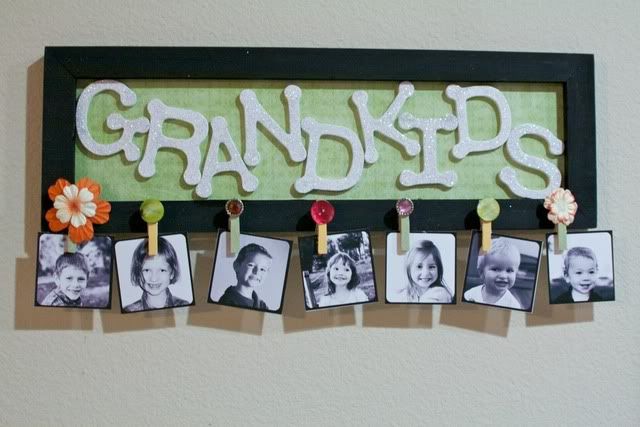 (The sign I made for my MIL)
I will tell you in more detail all about these gifts in the next couple of weeks.
All the recipients loved their gifts and the grandma signs brought tears to both grandma's eyes.

This is not the first time I have made people cry at Christmas.

When I was probably about 8, I decided I wanted to make presents for everyone in my family. But I did not want to tell anyone as that would ruin the surprise. I quietly gathered the materials, random pieces of scrap-wood, some paint and brushes and began.
First in my childish writing I painted a sign for my mom "I love you Mother" I believe it said. A second sign with "#1 Sister" for my older sister. But then, well my inability to spell kicked in.
For my brother - "#1 Bother" - the
r
accidentally left out.
For my other brother was "A genisus" (genius)
And my dad, well I didn't just paint a sign for him, I free hand stitched on a piece of scrap material a picture of a desk and then this saying, it looked quite a bit like this:
This time the placement of words and lack of punctuation leading to everyone's laughter as after my other follies they of course read it as "busy butt".
They tried desperately not to laugh knowing my intentions were good, but the laughter and the tears did come.
And yes, it is still brought up to this day.
Luckily my skills have greatly increased and there was the invention of something life saving for me, nothing other than spell checker.
Have you had a homemade disaster?
******************

The last Tuesday of the month is usually my
Ten Things to Smile About Meme
- however, due to the Review Extravaganza in progress (still time to link up) I will be doing my Ten Things Meme NEXT Tuesday.