I am not a sewer. Yes, I paint, make cakes, take pictures and do all sorts of creative things- but the sewing machine and I are not friends. In fact, I had to have my mom thread it for me so that I could make these pillows. So if I can make them, you can too. I found the instructions for these originally
here
(thank you
Pinterest
!)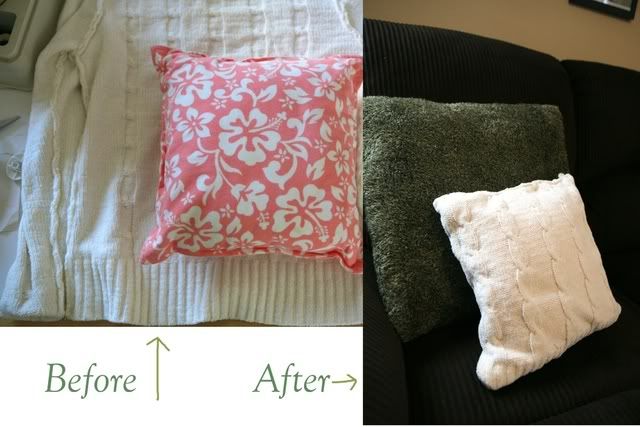 Pin It
Materials
Old Pillows you don't like anymore
Sweaters or shirts (L, XL or XXL for big pillows)
Sewing machine
Scissors
Needle and Thread
I have had the two big floral pillows for as long as I can remember. And yes they were sitting on my couch. When I went to the thrift store to find sweaters (all $1.98 each) I ended up picking the other two little pillows for $1 each.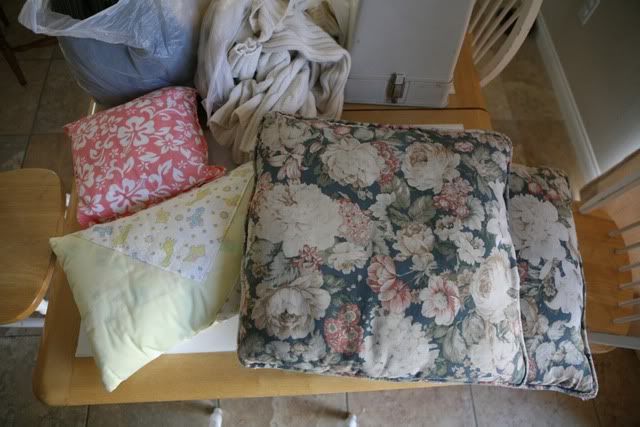 1- Place each pillow (or pillow) on sweater to make sure sweater is big enough and the look you want.
2- Turn sweater inside out
3- Place pillow on sweater, if possible line pillow up with one of the seams of the sweater (less sewing this way)
4- At this point you can trace a straight line around outsides of pillows- I simply grabbed scissors and started cutting. I made sure to l leave approximately 1/2" extra on sides of pillow (allowing for my free form method). I then just cut through both layers of the sweater at once.
5- While sweater is still inside out, sew three sides of pillow- getting as close to edge as possible. I did not even bother pinning- I just jumped on and starting sewing.
6- Do the Corner trick if needed (I forgot to take pictures so made a little diagram)
In the sewn corners, if your stitch is not right at the edge (maybe yours is then you are golden)- simply cut in a diagonal some of the extra fabric. Make sure you are outside of your stitches or you will just make a hole and have to resew. If you do this, it will help so your corners can be more defined and not as "mushy".
5. Turn the sweater right side out.
6. Go to each sewn corner and push the corner out with your finger so it is not tucked in.
7. Place pillow inside sweater
8. Hand sew 4th side shut
9. Optional- add an embellishments to the pillow (see below)
10. Enjoy your beautiful pillow!
Sweater picking tips
--
--You don't have to look for just ribbed sweaters, the green fuzzy sweater ended up being all of my kids favorite. And in the end I preferred the bigger ribbed sweaters over small ribs and designs, looks fancier.
--Get big sweaters (L, XL or bigger) especially if you have a big square pillow you are trying to recover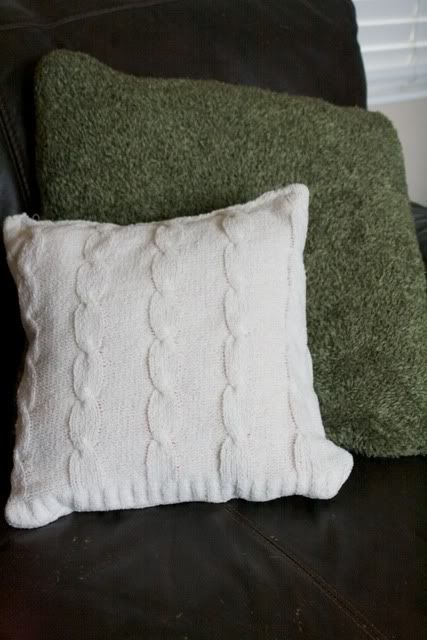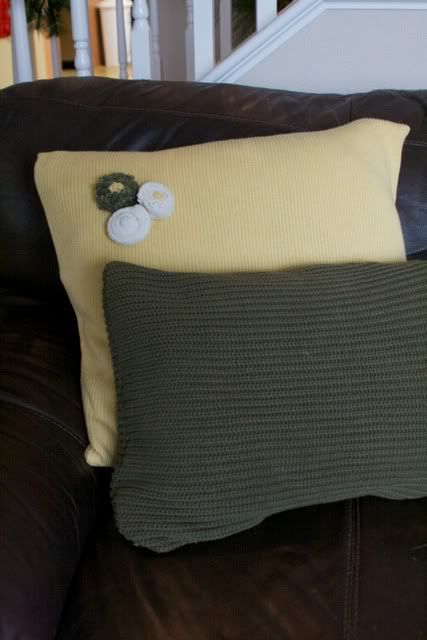 Embellishment Tutorial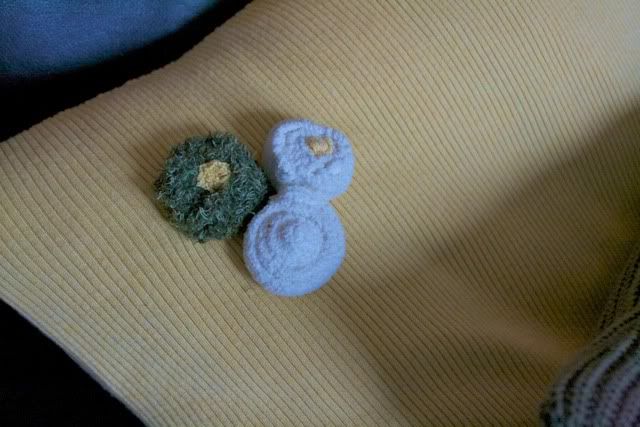 -okay first a small confession- my mom totally made the little flowers and I didn't 100% pay attention to what she did.
--basically- take some of the extra sweater pieces and cut into skinny strips. She then folded the strips in half with the rough or non folded edge up and then just roll up the piece into flower shape.
--then added a few hand stitches through the bottom to keep it together then sew whole thing to pillow.
-- For the two toned ones just start with a small piece of the other color and roll around it; then follow above directions
Enjoy! And let me know if you tried it!
I am linking this post up at the following crafting blogs