For some it is jewelry, for some it is shoes, for some it is purses or bags-- most of us have our personal vice. For me, it is shoes many of which I buy only to wear once or twice. But the thing that I use and need every day is a good purse or bag.
I am still in the child in diaper, child spills on them-self, child is hungry and needs a snack stage... in other words I usually need to pack everything but the kitchen sink. So when I was contacted by the owner of
Simply Bags
to see if I would like to try out one of their custom tote bags, well I was more than happy to oblige.
Simply Bags
is a husband and wife owned company who makes- well simply bags. To name just a few, they make everything from personalized totes, cosmetic bags, college bags (even a BYU one!), diaper bags, kids bags and even bags for men!
One of their many diaper bags
The best part is each bag can be personalized and monogrammed just for you.
I received a turquoise
custom tote bag
. This bag is huge! The inside is one big pouch however there is a side zipper pocket inside and two slip pockets-that would be perfect for slipping my phone into. It has a magnetic button snap top to help close it up a bit.
I don't really know materials- but whatever the inside is made of is definitely a material that would easily wipe clean from any spilled Cheerios or leaking sippy cups (or you could even throw wet towels in it if you were using it as a beach bag). It feels really durable- I even tugged on the straps for a while and they are sewn in good.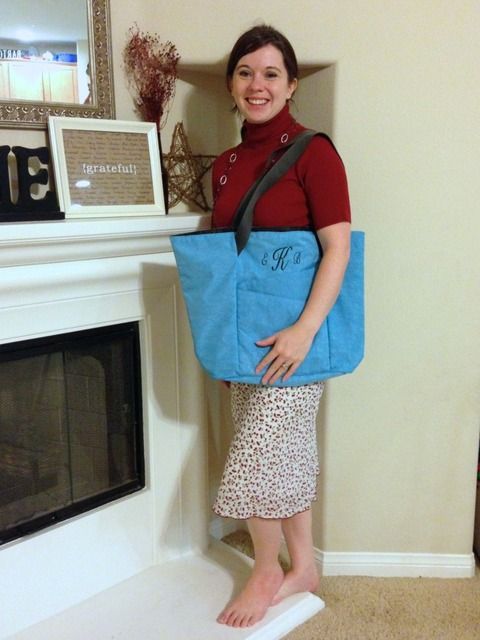 And of course there are the monogrammed initials- beautiful. This bag is rather large- as it is supposed to be; so while it isn't going to be my day to day bag it has become my designated library book bag-- we routinely leave the library with up to 30 kids books as each kid wants to pick out their books and this bag can do the duty well!
I am very impressed with the bag I was sent and after looking through their site I have a list of bags I would love to get!
Are you a bag person? What is your vice?
P.S. Tomorrow is the last day of the month-- so TOMORROW is Ten Things to Smile About this Month. Your chance to look back at the month and find ten things, whatever they may be- even a new tote- that made you smile. More info
here
.
Disclaimer: I was provided with a tote bag to review-- all feelings and opinions are truthful and my own.