Last Friday I sat at my computer happily reading through the Review Extravaganza recaps occasionally checking twitter and FB when I saw Connie of the Young and Relentless' status about Newtown. I immediately went to Twitter to find out what was going on.
I was shocked. I was horrified. I was in tears- sobbing for the rest of the morning as I watched the live coverage. I couldn't turn it off and I couldn't stop crying. Alex-my kindergartner was on her way home so I shut everything down, managed to compose myself and hugged her extra tight; grateful for the reason to shut it all off.
Before I turned it off I saw something disturbing starting to begin. Before the names of the victims were even known, heck before the media was even broadcasting the correct name of the killer- there were cries for more gun control/less gun control, for better mental health services, fingers being pointed at who to blame.
All I could think it's too soon. Let these people grieve-give us a chance to begin to figure out what actually happened before you begin spouting your political beliefs whatever they may be.
Now as we begin to step back and try and find reason in the unreasonable, try and find light in the darkness what can we do? Could we discuss gun control? Could we discuss mental health care? Could we discuss video game violence and violence on TV? Could we discuss how the media makes the perpetrator an instant celebrity as their name will forever be known.
Yes- but these are all just bandaids for a broken bone.
If we really want to find change, and peace and goodness; if we really want to fix societies problems, we need to look much deeper. When is the last time you prayed? I guarantee that many more prayed on Friday- many prayed who probably haven't prayed in a long time.
Why is that? Why is it that so many turn to prayer in moments like this? Is it because when we are our most vulnerable, our times of greatest despair, the most humble, that we begin to remember that truth and that rock that is at the foundation of it all? We remember that there is so much more.
Are tougher gun control laws going to make this day go away? Are more mental health services going to catch and help every sick person out there? Or is it something so much more.
That light shines in each of us; for some it radiates so strongly and for some it is nearly black. But there is that light, that truth that good. We need to search for it, to expand it and most importantly to share it by serving and loving those around us.
But that is not enough. In a world of moral relativism where everyone is a winner and things are okay as long as people are happy; it isn't enough.
If you just believe in trying to be a nice person for the sake of being nice-- than how do you stand up and teach right and wrong and take a stand when things are starting to slip into gray areas? How do you overcome that inherently selfish human persona when just being nice isn't enough?
You have faith. You have morals. You have truth and principles that have been around since before the earth was created to build yourself and who you truly are.
That is the only way not to crumble.
That is the only way not to give in to the despair and hopelessness. If you can't see the light it would be easy to give in, to just role with whatever tides society is choosing to ride at that time-- only to find you are so far from shore you have no way to make it back.
I choose faith. I choose love and goodness. I choose hope with the knowledge of the greater plan that there is for all of us- even if you may not believe as I do. I vow to pray even more earnestly, to smile even more, to find those around me that need help and then not just walk away but help!
I vow to share the knowledge of my Father in Heaven's existence and know that without the sacrifice of His Son that none of us could make it back. And most importantly that there is something to get back to; something worth fighting for.
I am going to let my light shine- for light can always overcome darkness.
And that my friends, is the hope for Newtown and for all of us.
Here is an link to an inspiring video of an
interview with one of the victim's father's
which echo's my words.
Linking up today with Impulsive Addict and Seriously Shawn for Talk to Us Tuesday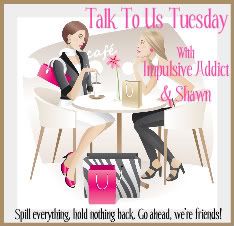 And tomorrow with Shell's Pour Your Heart Out