There is that special bond between mother's and daughters, something magical, something no one else quite understands... but what if it isn't quite there?
Talking about this today at my guest post over at
Becca's blog Every Day Life
,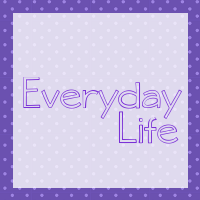 I have read Becca's blog for quite a while now and truly appreciate her poetry as I am not a poet. I have this hangup that I when I wrote poems I feel like they always have to rhyme.
To any who have come over from Becca's welcome! This is my little space where I blog about a little bit of everything from photography, my kids,
crafts
, every day life both the good and the bad all while keeping it real with a glass half-full approach.
I have a few different memes, weekly
Proud Mommy Moments
, monthly
10 Things to Smile About
This Month, and a monthly
Heart Felt Acts
.
I will be turning comments off on this post so you can leave you comment love over at Becca's!
Click here to get to my post
.