I hope you have been enjoying these guest posts as much as I have. My last guest poster is someone I found because she was already following my good friend CA Girl. I think I clicked a comment she left on Lourie's blog and have been going to her blog ever since.
Introducing
Nicole of Life's a Beach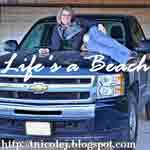 Nicole is a food loving, picture taking country girl. I love reading her posts about growing up and living in the country as it is so different from my life. She has a big extended family and friends and they always have the best get together with food and food pictures that will make you hungry every time. She is someone I know I can count on to always come through and to be true to her word.
Enjoy her post.

shared on instagram that night (Boomerbear)

Wow, this hit a spot with me. Now... I am absolutely no pro (although I'd love to be) but one of my favorite things to do is to photograph my food at restaurants number 1 and secondly a lot of times
I will write a review
on my thoughts about that particular restaurant if I haven't written one previously. Honestly, that's great publicity for your restaurant in my opinion. Free advertising, because you're not paying me anything (yet, call me... lol). The first review I wrote was last June for a
Cajun style restaurant in my area
. I wrote the review, posted it on their facebook site and they loved it. In fact, the next time I went in and from there on out the owner has remembered me.
food bloggers and blogging in general
. At the top of the hour they always address current topics and they just so hit on this very topic. I've included the video.
I absolutely LOVE what Mario Batali says!! I can tell you when I take my photos, that I don't use my flash. Flash generally tends to make your food not look that appealing... This isn't the
best example
, but you will notice that the flash is on because I forgot the camera I was using automatically puts it on unless you turn it off (
a point and shoot
). I had just received this camera for Christmas so I was learning the tips and tricks of using it.
used the flash
, over the restaurant lighting because my photos turned out funny looking in my opinion, but at the same time, I try to be courteous to other patrons and not set my flash off.
What are your thoughts on all of this?
Thank you again Nicole! I know I rarely get good food pictures as I just want to eat it!
You can find Nicole at the following