I am getting to the final recap of my family's trip to Chicago this summer and today's post is all about things to do with your family in downtown Chicago.
You can read the previous recaps here
Part 1
Part 2
Part 3
Museums
There are a ton of great museums in Chicago, everything from the Art Institute, the Field Museum, the Shed Aquarium and the Museum of Science and Industry.
The Museum of Science and Industry
is actually in Hyde Park, so right before turning into the loop into downtown Chicago you turn the opposite direction.
The museum is huge and you will not be able to see everything in one day but you should be able to see enough that you do not probably need a second day. You can learn about weather, about farming, about the heart and the body, airplanes, trains, really anything you can think of you can probably learn about it.
We didn't get the donuts at the museum but they are an Illinois staple
One of my kids favorite exhibits was touring the U-505 German sub that the Americans captured during WWII- they have the actual sub in the museum (the built the building around it) that you can go inside with a great presentation; this does cost extra money to go in the sub but is well worth the cost.
For an additional costs there are also Omnimax movies (think IMAX on steroids). The screen is huge and in a circular dome and it makes you feel like you are part of the movie. The shows are educational, often about protecting the planet and the very comfy chairs are actually quite good for a quick nap.
There is also a Coal Mine, which we did not go in this trip; but just be warned it is kind of dark and pretty noisy so young kids might not like it.
The Willis (Sears) Tower
Now you see, I grew up outside of Chicago and have forever known the tallest building in the country as the Sears Tower; so when it was renamed a few years ago, well I am still fighting it.
There are actually two really tall buildings in Chicago that have great observation decks, the John Hancock and the Willis Tower. Lucas knows
the Willis Tower
is the tallest in the country, so that was our choice. Just be prepared- it is expensive to park at the Willis Tower (as well as everywhere else in downtown Chicago).
They show you a video as you enter, which some just skip, but is actually quite interesting, then it is up a super fast elevator to the Sky Deck. Definitely bring your camera as the views are amazing.
There are some new observation decks that have glass windows that you can step out onto to look down onto the city. There are usually lines for these, though the lines move quickly. There is also one set up with a photographer, but you do not have to go to that one, you can can just take your own pictures.
The Zoo
Right downtown in Lincoln Park there is a FREE zoo (just have to pay for parking) the Lincoln Park Zoo. It isn't as big as the other Chicago area zoo the Brookfield zoo, but it is free and right downtown.
There are lions, bears, monkeys, gorillas, zebras, snakes and a ton of other animals.
My kids really enjoyed the Farm area- including the wind tunnel (pictured above).
The Bean
Something newer to the Chicago scene (2004), is the Giant Metal Bean.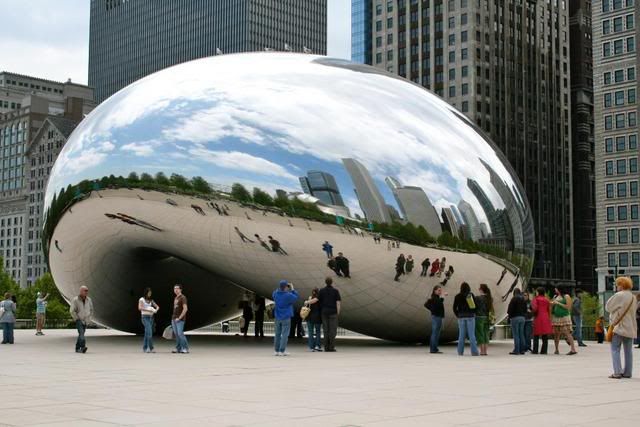 This giant statue is definitely a must see. It is in Millennium park, which once again will require paying more for parking; or you can do what we did. My parents have seen this many times and so they dropped us off on a street corner, we spent about 20 minutes seeing it (which you will probably want to spend more time) as they drove around and then picked us back up.
It is a photographer's dream with all of the fun reflections. On nice days it will be crowded, but just be patient and wait for a good spot to get pictures.
There really is so much more to do in downtown Chicago but these are just a few of my favorite things to see that are also family friendly.
**If you are planning on visiting multiple locations, like the Willis Tower and the Museum of Science and Industry or any of the other museums, definitely look into getting the Chicago CityPASS.
Since this is the last of my vacation recap posts, I just have to throw in one last picture that my BIL took of my kids enjoying his jeep.
Have you ever been to Chicago? What are your favorite things to do?