I am busy getting my first recap done for tomorrow for the Review Extravaganza 2013 so I figured this would be the perfect time to link up with
Kenzie
and
Scriptor
for We Want To Know Wednesday.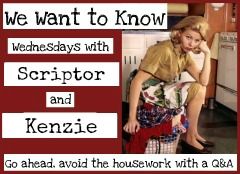 1. Would you rather eat at a fancy restaurant or eat a good home-cooked meal?
Restaurant no doubt! Especially if it is just my husband and I; but even with kids, love eating out.
2. Would you rather go on a road trip to a big city or go to the country?
Big City- I grew up outside of Chicago and have always loved how much there is to do. Now that I live in the greater L.A. area; I am used to having lots of options available and want things to do while on vacation.
3. Would you rather receive $100 a day or $100,000 right now?
$100 a day for sure as in only 3 years it is over $100,000. Unless the $100 a day stops at $100,000 then I will just take it all up front.
4. Would you rather it be summer all year or winter?
Do I even need to think about this? Summer! I live in Southern California, it is practically summer year round.
5. Would you rather watch TV or listen to music?
Watch TV, I really hardly ever listen to music anymore, even in the car I often don't have music on. Not sure why, just don't listen to it that much.
How about you? Are you a music listener? How would you take the money?
Come back tomorrow for the first week of the Review Extravaganza 2013! So many awesome prizes you could win, plus it is just so fun to look back and recap and read other's recaps. Remember, if you link all four weeks then you will be eligible for more bonus points (and better chances of winning). You can
read the rules and see the awesome prizes here
. See you tomorrow!