Disclaimer: I am not looking for sympathy in the form of "don't be silly you are fine" or things like that, I am just pouring it out and telling how I feel right now. Which is why I am linking up with Shell's Pour Your Heart Out
.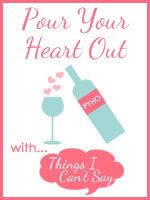 It was first my nose...not sure what is was about it, I just didn't like it. Then it was my crooked teeth-but almost three years of braces fixed that. At some point it must have been my ears as I would never let my mom put my hair in a ponytail. Then it was my pale almost pasty skin and time just helped me get over that...mostly.
Now... at a time when I am in my prime and past all of the petty high school drama, I hate my body more then ever. My graying hair really needs to be dyed again. Being home with a baby all summer has made my white skin even whiter. I have this lovely blotchy/scaly patch skin thing going on on my forehead. I am extra large up top because of nursing (which you would think would be a good thing...) and I have a true muffin top. Oh and I am turning 30 next month.
Now before you all say, you just had a baby... I know this but I "just had a baby" for more than three years after Alex was born with nothing ever really done about the muffin and now it is worse than ever.
I literally cannot do a situp. I can do lots of leg lifts and all of the other moves in the palates workout video, but the sit ups.. not one. I think it has something to do with being sliced open three times, my muscles are messed up.
So the question is what am I going to do? Well I am finally going to stop complaining about it and do something about it. Next month my little sister is getting married. I, along with my older sister are some of the bridesmaids... and yeah trying on the same dress (just a bigger size) and standing next to my size two sister really didn't help my self image at the time. It is my goal to not have to wear some sort of slimming garment to her wedding. And if that turns out to be unrealistic-then it will happen by December when I have to dress up for my husband's work party.
So I am joining
Shortmama
with her Journey from Muffin Top to Skinny Jeans and since I am just joining now here is my plan
1) Eat a good breakfast--no more grabbing something on my way out the door while taking the kids to school. It sets up for all morning snacking whenever I do this.
2) Move more during the day- get down and play with the kids, dance while making dinner, just move.
3) Drink lots more water. Especially since I am nursing this is really important. I have seen the results when I am not hydrated enough-it is so not good.
4) Start doing palates-first the regular workout then the hour long stomach specific one.
5) Do not snack after 7:00 PM-except for on the weekends, because I have to have some popcorn while watching a movie, let's be realistic here.
My goals are to make it so I do not look like I am three months pregnant (and on bloated days more like 5). I cannot do a lot of calorie cutting right now since I am nursing and in fact need more calories, but I want the calories I am consuming to be good worthwhile ones. And I want to lose about 8 lbs. (don't hate me for good genetics--my small size makes my pooch look 100 times worse).
So these are my goals. Now I know all of my local friends will be checking out my stomach after reading this, but good-it will hold me accountable that way.
So wish me luck- I am really going to do it.