As Proud Mommy Moments (PMM) are still pretty new, I will quickly explain it, you can read more details
here
. PMM is your chance to share those times that made your heart burst with pride or about those times that made you "proud" in the sense that you want to hide your head in shame. It is a time that it is totally acceptable to brag about your kids as we are asking you to or record those times that you really don't want to remember but yet they are too funny not to share. You can see a happy example
here
and a "proud" example
here
. Easy and fun!!
Then write your post,
grab the button
,
add a link
to either Kmama and/or I and then
link up
here. You can add your link at either blog-it will show up on both.
And here is my Proud Mommy Moment:
I know the day will come. What day? The day where I hear "mom don't kiss me, my friends will see!" or something similar which will let me know that I have now become an embarrassment. I remember feeling similar things about my parents at different stages in my life. So I know it will happen and all too soon. So for now when my kids are 6, 4 and almost 1 (on Saturday-ekk!), I am just trying to enjoy my cool awesome mom status.
So when Lucas made this at school (and this was well before Mother's day)....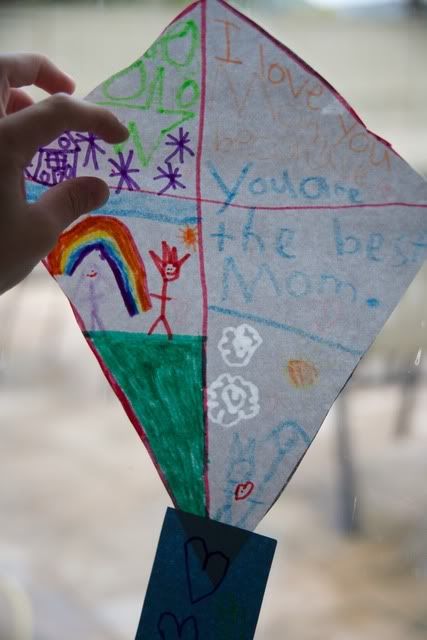 (In case you can't read it: "I love you Mom because you are the best mom")
I couldn't help but beam with pride as all too soon these love notes will stop being for me and will start being for some other girl in his life.

What is your Proud Mommy Moment?