Yep- you read that title correctly-if you read the title did you? Go ahead read it now.
Yes, the Status Quote is back! It kind of took a hiatus for the summer, but now that my summer is over- school started yesterday- it is back in full force.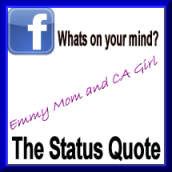 If you don't know what the Status Quote it- it is a monthly meme created by
CA Girl
that I cohost with her. It is always on the second Tuesday of every month. It is your chance to copy those funny/weird/bizzare FB or Twitter status that you see for an easy fun post. You don't have to tell who said it-so no incriminating the guilty- if you don't want.
So copy those status and play along. My commentary is in blue. " --
lol oh this is so so true.. and kind of makes me second guess going to a public pool
"-
so that is how teacher's feel
"-
gotta love my BIL and all of his status updates
"-
I could see myself doing that as I am so used to my iPad
"-
LOL! I tried to watch Shark Week-but we had just seen Soul Surfer (so so good by the way) so didn't really like it much
"
-- sadly this was me- you can read about the go-karting accident here
"-
heck ya!
See- how easy and fun is that. So copy those status, grab the button (just copy and paste the code under the button above) and play along.