Love linking up with
Kenzie
and
Sciptor
for We Want To Know Wednesday. Here are this week's questions.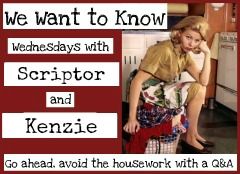 1. Are you brand loyal?
Yes and no, there are some things with food that I do prefer a certain brand, but really overall I am more than happy buying store brand to save some money. I am definitely very loyal to Apple and Canon though. Won't find a PC or Nikon in this house.
2. Tell us about your first job?
My very first job was as a newspaper girl; I delivered the papers to about 40 houses on my street. During the week it was an afternoon paper, so right after school. Saturday and Sunday were morning papers. The Sunday paper around Christmas was always so horribly fat with ads I could usually only fit about 8 in my bag. I would have to carry two bags and wobble down the street; then come back load up again and deliver the rest. My street didn't have sidewalks and everyone had big front yards so riding a bike wasn't really an option. I was the best paper girl and if it even looked like rain I would bag the papers and put them in everyone's screen doors.
3. Do you have any tattoos?
Nope and never will- though I have some pretty awesome scars (thanks to
open heart surgery
)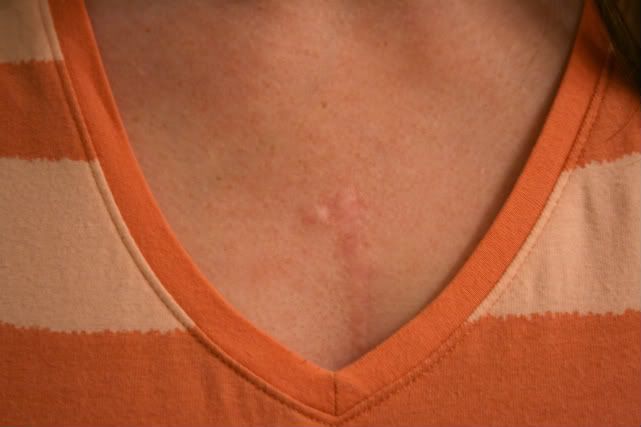 The top of my scar- goes down to a few inches over my belly button
4. How long do you spend on your appearance each day?
If I averaged the week out it would probably be about 20 minutes. Most days I spend about 5 minutes doing quick makeup and running a brush through my hair. On Sundays or when I am feeling ambitious I curl my hair, and spend a little more time on makeup so about a hour.
5. What is one thing you have to do before leaving your house each day?
I initially thought getting dressed, but that isn't true as I have had had many school drop-offs in my pajamas (and we know I have
a pajama history
)... so probably putting my contacts in, otherwise it would not be a good idea to let me drive.
Would love to hear, what was your first job?