Have you made it through my vacation recaps? Hopefully and today is the third and final one; you can see the
Part I here
and
Part II here
. Oh and just a friendly reminder of Ten Things to Smile About This Month will be on Tuesday! It is your chance to look back and find Ten Things that made you smile during the month.
Now let the recapping begin (and finish)
Thursday, July 12th
A lot of our trip is centered around the kids but the adults do have fun too. These things happened on a couple of different nights but I will just tell about them here.
Raelynn and my MIL were nice enough to watch all the kids one night and let some of us adults go out to dinner. If you are ever visiting around the Salt Lake area and love Mexican food than you must go to Red Iguana or Red Iguana 2 as we went to. And look I am in a picture!!
The other night after the kids were in bed some of us went and saw Spiderman- so so good!
Thursday morning we went swimming at the Rec Center- big cool indoor pool. The older kids spent almost the entire time going down the big water slide again and again. No pictures at all for this one.
Thursday afternoon was cupcake time! There were three captains who had to come up with cupcake designs and then the kids were in decorating heaven....
Well until they got bored and abandoned ship to play outside-- which the adults didn't necessarily mind too much as it was easier to finish up the rest ourselves.
Why so many cupcakes? Well they were for part of the cake walk for the family reunion picnic that was going to take place the next day.
Friday, July 13th
The morning began with a long drive out to the infamous go-kart track. Why infamous? If you followed my blog last year- you will remember this was the place where I crashed the go-kart (can read about that
here
). But I was ready to brave it again. I was definitely a lot more timid around the track, especially when I got to the back corner, but still had a ton of fun. And this year we let the kids come along to watch.
Kids wearing their matching pajama shirts from last year. Ready to race- I am the short one in the middle- and no I am not short, the next "shortest" person in this pictures is 6'1"
this post here
). They also got to enjoy the Mustang Museum (definitely Lucas' favorite)
Then Friday evening was the family reunion picnic. This was for the family from my MIL's side (a lot live in the area). It was a Bring your own dinner picnic at a park, complete with a bounce house.
The kids loved the bounce house!
We took Ryder in and let's just say he wasn't the biggest fan of it- something about the floor moving under him just doesn't do it for him. I tried going down the slide with him and so did Eric but then we just got him out.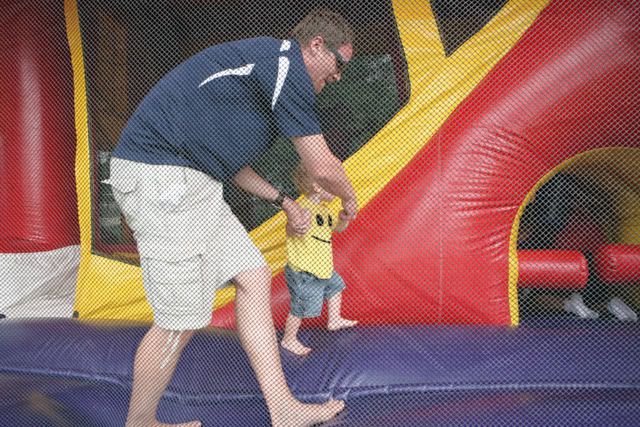 Ryder trying to like the bounce house
Eric went over to playground with Lucas and Ryder and recommended I put my camera away as it was starting to sprinkle. And then the wind suddenly picked up. It had been blowing some the entire time but suddenly there was a huge gust. And then I heard the screams.
I turned around to see the entire bounce house (with kids and adults still in it) tumble completely over! More screams and adults started running. Eric bolted from all the way over at the playground and helped grab onto it. The entire thing rolled 2 1/2 times before they were finally able to stop it and brace it from blowing more. When I saw the thing blow- I have to admit my first thought was to grab my camera and take a video- but Eric was yelling for me to check on our kids and then I ended up helping hold it for a minute to make sure it didn't tumble again as the wind kept gusting.
My Father-in-law found the hole and called for the adults to hand the kids out.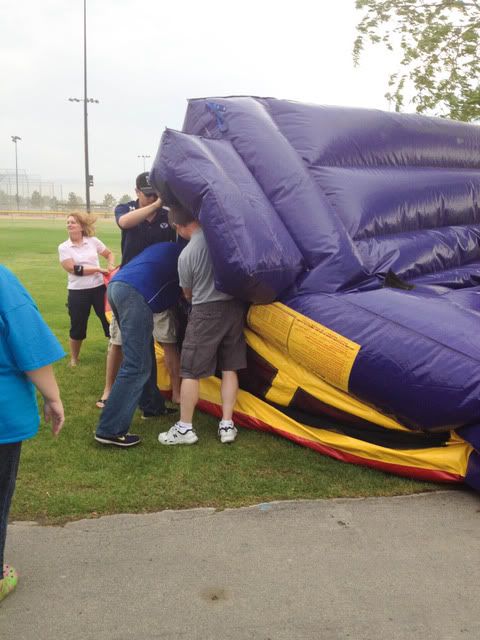 Trying to get the kids out- there were lots of adults on either side bracing it from tumbling again
Thankfully at the time there were only three kids and two adults in the bounce house. One of Eric's cousins that was inside helping his nieces and nephews at the time said he was at the top of the slide when it tumbled and ended up on the ground- but from where he was he was able to see Rachel's daughter pinned beneath some of the blow up obstacles and was able to pull her out and help her get to the exit.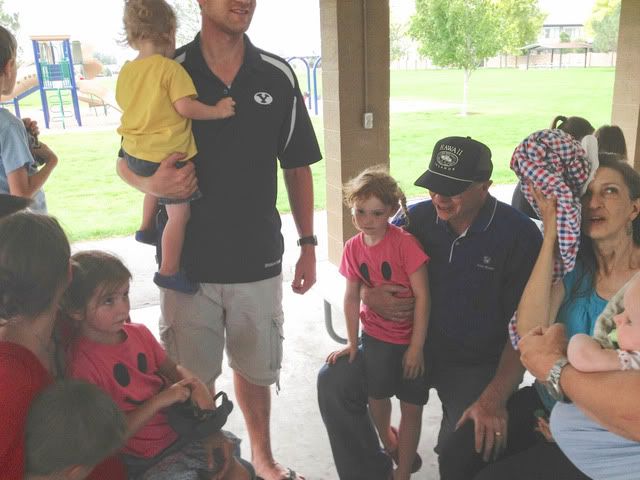 Right after the fact- My MIL is holding ice on her head.
It really was just one of those surreal moments- and you really should go read my SIL who is 29 weeks pregnant account of the event as her daughter was one of the kids trapped. You can
read it here
.
Miraculously the rest of the evening went on without a hitch and everyone had a great time.
Saturday, July 14th
A little shopping for the girls, one last dinner at Sweet Tomatoes and then it was time to say goodbye and start our journey home.
It really was such a fun week. Eric said next year we will just have to sit around and give ourselves paper-cuts and pour lemon juice on them as that way we won't be so sad to go home.
Thanks for sticking with me through these longs recaps. And to end it with something totally cute- I give you the Two-Year-Old Troubles.