This is it! The final week of the 2014 Review Extravaganza. (#2014RE) I hope you have had a great time recapping with us, or if you haven't yet, jump in and recap the entire year (you have until Friday to link up). This is also you last week to get as many entries as you can into the giveaway. You can see all of
the great prizes here
.
I always love looking back at the year as a whole as it is amazing how time and perspective can change things. It is also so great to be able to meet new bloggers who link up with us. Grab the button for the post, and join in recapping October, November and December.
***Tomorrow will be my monthly meme 10 Things to Smile About This Month********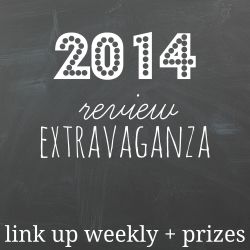 October
Started off with some humor in
The Costco Trap
, I decorated for fall and my
oldest had a birthday
!
Did a newborn shoot, which I think will always be one I remember and love
We were busy with school (Alex got student of the month), soccer, and even an 80's murder mystery party. .... oh and I might have
had a birthday too.
Our 80's outfits
And of course the month ended with
Halloween
....
Pictures from the month
November
I
looked for tender mercies
, my
son lost his pants
, and I shared our family pictures and told
why every photographer should be shot
.
I told you
5 things you may not know about me
and did a lot of photo shoots this month....
My in-home "studio" for newborn shoots
One of my favorite photo shoots, wasn't necessarily for the actual pictures but because why I was taking it; I was taking pictures for my
daughter's baptism invitations
with the beautiful dress my MIL made.
Alex's soccer team ended the season undefeated, I went on some field trips with Ryder and got to have a lunch date with my bestie
CA Girl
when I was scouting out photo shoot locations in her city.
Eric's parents came into town and went with Ryder's preschool class to see the Nutcracker.
Parties- Eric's work party and a church Christmas party
And it snowed in California.. well at my kids' school at least
There was lots of events and parties at school too and I photographed my church's Live Nativity they do every year.
Ryder's preschool class
I shared a video I made- The Christmas Gift
And there was Christmas of course (which I will be blogging about later this week.
So join in and recap the year with us! You have until Friday night to join the fun.
You have until the end of the week to get all your extra entry points!
2014 Review Extravaganza