Spring 2000
"Well if we can't find it, we probably aren't supposed to live there." My roommate and I were looking for our first off-campus housing. We had met that year in the dorms,
amazing freshmen year
, and were now preparing for our sophomore year; ready for a new adventure. We had read about one apartment complex called Casa Dea but just couldn't find it (this was before the days of phones with GPS), so we decided it wasn't the place for us. We looked at the places on the rest of our list, and then we just happened to see it, Casa Dea, old, a little ghetto, cinder block walls... but when we went inside-we knew, just felt, this is where we were supposed to live.
Fall 2000
I'm
dating
this really cute and REALLY tall guy. He lives in the same apartment complex as me. At first I thought he was too tall. We have a class together. I think I am really falling for him.
Spring 2001
How has this year gone so fast? Everything has changed. Not only did Eric and I keep dating, but we are engaged! We got
engaged on ground hogs day
. I am in love!!
Fall 2001
I can't take my eyes off the TV; I am sitting starring at the TV in our first apartment, unable to stop watching the news. Our country had been attacked, the
World Trade Centers Fell
.
Spring 2002
This August I will be graduating! It doesn't really seem possible. I ended my college career with a couple of years of 4.0's a lot thanks to my husband helping me study.
Fall 2002
We live in Lehi now. I am looking for a job and will probably end up in Salt Lake. Eric's job is near Salt Lake but he is still in school at BYU, so it was a great middle ground.
Spring 2003
I am working for DCFS as a foster care worker, it is a crazy job. We are buying a house! Actually we are having our first house built!
Fall 2003
We love our house, my family all came for Thanksgiving. It was kind of weird and pretty awesome hosting our first Thanksgiving in our new home.
Spring 2004
Eric is graduating! The job search is beginning, we are obviously hoping to stay in Utah with our new home... oh and I'm pregnant!!
Fall 2004
What a difference a few months can make; Eric got a job, they relocated us to Durango, Colorado and the biggest news,
I am a mama now
. I am in love.
Spring 2005
I love being a mom; though it is hard some days. Lucas still doesn't sleep through the night and if we don't keep him on a good schedule he just totally loses it.
Fall 2005
My baby is one! How can that be? He wasn't sure about his birthday cake at first, but with a little prompting, he loved it and kept saying
mmmmm.
Spring 2006
The hospital is almost complete, now the guessing game begins, where will we be moving to next? We have heard Veil, CO; Palmdale, CA; Hawaii or Mesa, AZ... it changes from day to day. Oh and I'm pregnant!!
Fall 2006
We are now in Mesa, AZ. We moved two months before
my little girl was born
. She is adorable and chubby, and her hair is red! How did we get a red-head?
Spring 2007
Sometimes things happen in life you never, ever expect. Some things break you down and tear you apart.... what matters is how you come out of it in the end.
Fall 2007
Love my group of friends here, we all have at least two kids ages 3 and 1, some only days apart. It is awesome.
Spring 2008
The housing market is crashing, our home is losing value everyday. Some of the hospitals Eric is supposed to build are falling though. What is going to happen?
Fall 2008
Well we did it again, we moved. Now to Southern California. I don't think I ever thought I would live in California.
Spring 2009
Love where we live, love our house. Love that we live close by family. Lucas has become such good friends with Ryan and so I have gotten to know his mom Lourie (my husband's cousin) really well, I think I have a new friend for life!
Fall 2009
Life is good and we decided that maybe we can handle another, I'm pregnant!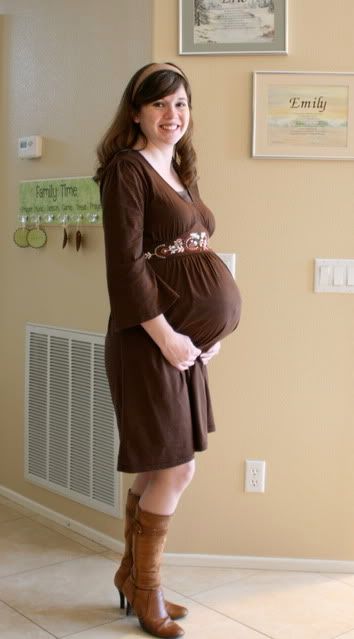 27 weeks pregnant in this picture
Spring 2010
It was just supposed to be a week vacation, things completely changed, Ryder was
born 8 weeks premature,
700 miles from home in Utah.
Fall 2010
Lucas is in Kindergarten! (
For real this time
) This time around it seems to be going much better. Alex is in preschool too; it is weird having the two oldest both gone, though I am enjoying the one-on-one time with Ryder; his reflux finally seems to be getting better.
Spring 2011
The hospital is done... it is coming, we are going to be moving again... maybe to Northern California, we don't know yet.
Fall 2011
In our new home, we are still in Southern California, just further north. We love our new house and new neighborhood.
Spring 2012
Eric just finished what was probably one of the easiest years of his career, he was in a temporary spot until more jobs started. I loved that he was able to be the assistant coach on Lucas' soccer team because he wasn't totally swamped at work.
Fall 2012
Alex is starting kindergarten! She is so excited and definitely ready. I think she may be the tallest one in her class and Lucas got baptized!
Spring 2013
Another school year is coming to a close, Alex finished kindergarten, Lucas finished 2nd grade, both did so good. Lucas has come such a long way from his rough start in school.
Fall 2013
Life is pretty good right now, we are busy with school, soccer and just life but I can't complain... plus we are in the same house still! We are hitting record length now!
Spring 2014
My
photography business
is really starting to take off, I am getting cold-calls even, it feels pretty dang good. I really do love taking pictures.
Fall 2014
My baby is starting preschool! Two days a week all three of my kids are in school, I can't believe it!
Spring 2015
Ryder graduated from preschool, school is about to get out, I am looking forward to this summer. This fall all three of my kids will be in the same school. It doesn't seem possible.
TODAY....
Today, today is a day to celebrate and remember this whole crazy journey. Fourteen years ago today, I made one of the best decisions of my life when I married my husband.
Fourteen years ago, I don't think we could have ever predicted this journey we would take. As I sat back and thought about all we have been through, all of the places we have lived, all of the up and downs, I could not imagine doing it with anyone else.
Eric you are my rock, you are my sanity on the days I am just going to lose it, you are my best friend and mean everything to me.
I love you.