We are halfway done with the Review Extravaganza! (#2014RE)
It has been so fun reading everyone's recaps and getting to know a lot of new bloggers. I will be honest, I am yet to make the rounds for last week yet, but I am going to! I had a photo shoot this weekend which I also finished this weekend (Christmas present) so that has taken all of my time.
You still can join in if you haven't yet. This week we are recapping, July, August and September. Make sure to head over to this post and see all of the awesome prizes you could win when recapping with us. Grab the button for your post!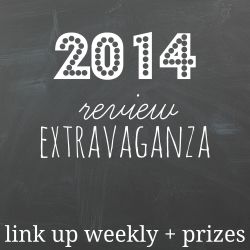 Read all of the
rules and see the prizes here
.
July
July began with us on vacation (which started in June). We first went to Utah for a few days, then went to Yellowstone for a family reunion with my side of the family.
My side of the family-- all 27 of us!
The worst part- I never really blogged about it! I kept meaning to do a Throw back Thursday all last month and catch up (as I get my blog printed every year), but I never did. It may have been the 1200 pictures I had from the trip to go through that overwhelmed me in the end.
I did share this fun video though I made from our vacation, definitely worth watching.
While I was gone on vacation, I told about
my first kiss with my husband
.
We spent our 4th of July in Utah, where Eric put on a firework show for us (with fireworks we purchased in Montana).
After our trip we mostly enjoyed what was left of our summer, lots of pajama days, made some cookies, toured model homes and I did
a few photo shoots.
Then it was time to share my
Back to School Check-list
, as school was about to begin again.
Pictures from the month
August
We had our annual
YES Day
right before the kids went back to school.
My
Kids started school
- like right away.. August 4th to be precise.
Ryder started preschool and I was home alone for the first time in many years!
beach days
- on the weekend since school was back in.
I told why
my kids are colorblind
, had two gets get sick during the month, I found an awesome thrift store that is just books, Alex started soccer again, we went to Knotts Berry Farm for my husband's work party and I photographed more newborns.
Some Pictures from the month
Football season was in full swing, had some great date nights, we got passes to the aquarium and saw this scary guy
shouldn't give up on your dreams
.
Pictures from the month
Super good hair day
Can't wait to see your recap! Add your link below, then don't forget to keep getting all of your entries for the giveaway!
2014 Review Extravaganza